If only we'd known what to look for.
When we broke the news that Lewis Hamilton wasn't quitting F1 to race MotoGP, but in fact his teaser tweet was in fact in preparation for the announcement of his new, sparkly MV Agusta F4 LH44, we thought we'd been clever in finding scoop footage of the (admittedly) sexy but expensive, candy apple red sportsbike.
But it turns out that there was an even clearer image of the bike hiding in plain sight over on Autotrader.com.
An enterprising MV Agusta dealer from Barnsley had already placed the bike up for sale on the vehicle selling website over a week ago, with photos and early details of the machine.
Alongside the price (£53,900), the dealer also let slip detailed photos of the motorcycle as well as the Lewis Hamilton connection AND the fact that it would be limited to 44 versions only. Although actually, that's 43 now, because the Barnsely-based MV dealer also let it slip that their allocation of a single machine has already been sold.
So if you had known where to look, you'd have been able to get the scoop on this limited, trinket-filled machine days ago.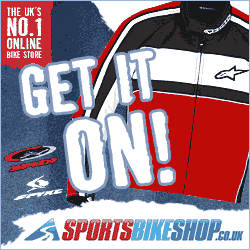 As it stands now, you'll just have to look at our gallery of images that we posted earlier instead.