What price would you put on your safety? Well, Dainese emailed us on Friday with a run down of their top-of-the-range, track-inspired, road/race collection, and the price they put on it all ain't cheap.
Kicking things off is the Mugello R D-air® suit, which Dainese say introduces over 25 new features and several pioneering innovations and five new patents. The D-air® platform has been extended to cover the neck, shoulders, collarbones and the lower side of the rib cage.
There's a redesigned and seamless-integrated LED interface and a patented Intelligent Emergency Lighting System; adaptive knee construction; high-performance pre-curved engineered textiles and tri-axial elastics; plus redesigned elbow construction, with an optimised slider shape and quick release system. It's certified to CE. Cat. II – 89/686/EEC Directive, with the elbow and knee composite protectors certified to EN 1624.1 Standard Lev. 2, as well as the Pro-Armor shoulder and hip protectors.
RRP: £3,399.95.
Underneath that Dainese say you should be wearing the D-Core Dry one-piece suit. It's made from a mix of Dryarn®, Polyamide and Elastane, for triboelectic charging (whatever that is); has an Air Grid to increase perspiration; seamless construction and Armor Pad for added comfort on contact areas; a Press Structure to optimise muscle compression; and bacteriostatic, hypoallergenic and anti-odour fabric.
RRP: £89.95.
The Wave D1 Air is their top-of-the-line back protector, developed with the help of some of motorcycle racing's greatest champions. It features a perimetral double density thermoformed support structure with an aluminum Honeycomb frame inner core and Crash Absorb; external polypropylene plates with perforated and waved structure; adjustable and removable straps as well as a Double Adjustable lumbar band with lumbar joint and for added comfort its liner is thermoformed polyethylene foam.
It's Certified to CE – Cat. II – EN 1621/2014 lev.2.
RRP: £179.95.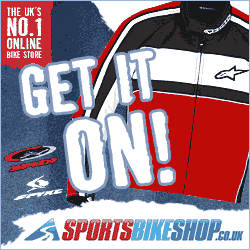 Hands are taken care of by the Full Metal D1 gloves. They boast Kevlar® jersey, DuPont™ Kevlar® fiber stitching, cowhide leather and drum-dyed goatskin leather construction; CE – Cat. II – Pr-EN 13594 Standard level 1 certification, and have a DCP system on little finger, composite inserts in carbon and titanium on the knuckles and back, carbon fibre inserts at the joints of the fingers and Polyurethane inserts on the palm and cuff.
RRP: £299.95.
Finally, the R Axial Pro Boots – worn by the likes of Rossi, Iannone and Espargaró – are made from a combination of D-Stone™ fabric, cowhide leather and microfiber with replaceable stainless steel sliders, nylon toes and heel and a TPU rear inner insert, and are certified to CE Cat. II – EN 1364.
The R Axial Pro In are designed to fit seamlessly with Dainese suits thanks to suit-to-boot Velcro® fastening system, reducing the risk of getting caught on foreign objects in case of fall and to improve riding precision thanks to reduced dimensions, lower weight, and better aerodynamics. The internal D-Axial system in Carbon and DuPont™ Kevlar® reduces the risk of ankle twisting and provides impact protection.
Yours for £399.95.
That's a grand total of: £4369.75. Crikey!
You're going to need a helmet too though, so why not throw in an AGV Pista GP-R Rossi Winter Test 2017? It's only another £1,100.00.
For more information, or to locate your local Dainese dealer you can of course visit: www.dainese.com.
To pay for it all, visit the stock market.