It's a sad day for Italian motorcycle company, Bimota, as they close the doors on the main factory for the last time.
Created by Massimo Tamburini, Bimota has had a troubled few years and was virtually extinct. This week its premises in Via Giaccaglia, on the outskirt of Rimini, shut their doors. There wasn't an awful lot to close the doors on though; the premises had been empty for a long time. The significant change was all signage has now been removed too.
Tamburini delivered technical excellence and stunning styling to Bimota through his hard work and superb creativity. His art was hands on. Cutting, bending and welding chrome-moly steel tubing to deliver an advanced and beautiful chassis. The company is now owned by Daniele Longoni and Marco Chiancianesi. Both originating from Italy although now living and operating in Switzerland. Recent bikes have been manufactured in Lugano. It would appear the fall out of Bimota came when Tamburini's business partner, Giuseppe Morri, forced him to quit. This removed the heart of the company and with it, the quality of design and engineering synonymous with Bimota.
Hopes are that the company may be rediscovered by a wealthy entrepreneur, in a similar style to British motorcycle manufacturer Norton, when Stuart Garner stepped in and gave the brand the rebirth it needed. With the heritage of Bimota, this could be a beautiful fairy tale ending.
Bimota's HB1 was the company's first production motorcycle. It's design and livery making it one of the true classics. Boxy and typically Italian (using whites and reds to accentuate its design.). The YB3 won the Grand Prix World Championship. The YB4 won the last TTF1 World Championship and the first race in the new World Superbike Championship.
The company won the prestigious Motorcycle Design Award with the DB5, and the DB7 Oronero became the only road bike in the world with a carbon fiber chassis and swingarm.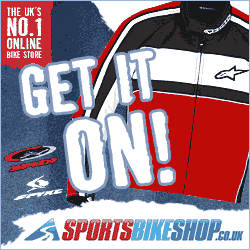 Rider Mario Lega rode the YB1 to victory at Misano. Unofficially this was their companies home circuit. However, they have won many other races through the years.
The company website is still showing signs of life, but it is also still showing the Rimini factory is open. So, this is one company to keep your eye on and, if you have a small fortune burning a hole in your pocket, maybe Bimota is waiting for you!
Source: Cycleworld