She made her world stage debut in the Moto3 World Championship in 2013 and became the first female rider to score points in over a decade, now four years later, she celebrated her first victory in the World Supersport 300 class in Portimão to become the first female rider to win an international motorcycle race.
Ana Carrasco is one of many successful females who are paving the way for women in the world of motorcycling, and her Portimão victory should be enough to inspire any racer – both male or female.
She wasn't handed her SSP300 win either. It was an intense five way, race long battle between herself, Alfonso Coppola, Marc Garcia, Dani Valle and Mika Perez that well and truly came down to the wire. She worked hard for that victory, and it was well and truly deserved.
Carrasco has jumped from championship to championship, but most notably competing in the Moto3 World Championship and the FIM CEV. Since her arrival in the Superbike paddock, she has constantly finished inside the top fifteen and mostly in the top ten. Before her win today, her best place finish was an extremely respectable seventh out of a twenty six strong grid.
Jumping back to the 2013 Moto3 World Championship, Ana scored her first point in the Malaysian Grand Prix. She bested the likes of Francesco Bagnaia, John McPhee and Lorenzo Baldassari in a fiercely competitive championship. At the final round in Valencia, she took an incredible eighth place in a close battle between Alexis Masbou, Isaac Vinãles and Philipp Oettl and beat the likes of Romano Fenati, Luis Salom and Brad Binder.
And let's not forget that time she took on the battle for equality with her 'brolly boy'.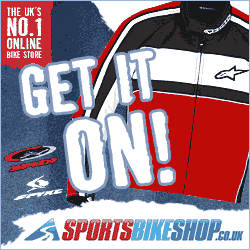 Before you get tired of the history lesson, please know that I am not reeling off these statistics for no particular reason, but I'm doing so because these achievements are important. They prove that women can be just as competitive in motorcycling as men. At Valencia, all the riders she beat were way above her in the overall Championship, with Salom the highest placing finisher in third.
But despite Carrasco's success, women are still at a loss when it comes to racing. Having spoken to many female racers from all different kinds of championships across the world, there were three things they all had in common: men hated losing to them, they love what they do and they struggle to get sponsorship. Some were in agreement that they couldn't source sponsorship because they were women and don't get the same coverage as men, and that is something that desperately needs to change.
We are lucky that motorcycle racing is a sport where both males and females can race against each other, rather than separately. And this should be rightly celebrated.
Most sports have two separate championships – female football, rugby, hockey and even darts. But in bike racing everyone can compete as an equal, and racers are not kept apart because of their gender. Despite all of the seeming equality when it comes to sharing the track however, having a separate championship for women is still something that is regularly and widely debated, and incredibly is still something that people can't seem to agree on. Which I find just incredible…
The way I see it is this – if women can be treated as equal in daily life, why not on the race track? Do away with the idea of a female only championship and let everyone compete equally. In Portimao, Ana beat thirty-four men, all racing on regulated machinery and she rightly deserves the plaudits. But she's not the only one…  At the 2016 Bennetts Classic TT, Maria Costello bested thirty six male racers to take to the podium only three seconds behind two of the world's fastest road racers – John McGuinness and Dean Harrison.
In fact, there are many female racers for aspiring riders to look up to, despite the naysayers and with all of the hurdles to overcome – just look at Jenny Tinmouth, who had a factory Honda ride in the pinnacle of British motorcycle racing, or Maria Herrera who races in the Moto3 World Championship.
Ana Carrasco's World Supersport 300 win just proves that women can be competitive in motorcycle racing worldwide, against male riders from countries that produce the highest level of talent.
The line "a woman in a mans' world" is thrown around in a lot of industries – but particularly so in motorsports. With trailblazers such as Ana Carrasco maybe – just maybe – the world can start to become everybody's.