In Europe, maxi scooters are everywhere, and electric power is heading for the mainstream.
So it was only a matter of time before we saw an OEM-sanctioned custom, and here it is: a radical BMW C evolution drag bike from Rolf Reick of Krautmotors.
With its stealth bomber looks and low-riding stance, it's light years away from your typical plastic-swathed step-through—and we'd put it in the Bike EXIF garage in a shot.
It's easy to see why BMW tapped Rolf Reick (above) for this job, and he's delivered in spades. His background is in industrial design, and when he's not building customs, he heads up a school for product design and multimedia in Mannheim.
Rolf likes to go down "the road less traveled," and has long wanted to customize an electric vehicle. "It's about taking away people's reservations about electric vehicles. I'm showing them what they already know: an exterior with an old-school look, but built around new technology."
The exposed powertrain does look 'old' in a retro-futuristic Millenium Falcon way, but the front end looks like it's come straight out of the future—like a section of a B-21 stealth bomber. "It's so you can see what the BMW is, right away: an e-bike," says Rolf. "It's a real Reick scooter—rough, raw and unpolished."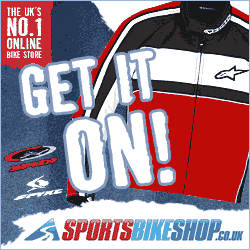 'E-LisaBad' is named after Rolf's grandmother, who strangely provided the inspiration for the styling: "I always liked her 'Cubic' tea service, which was designed by the Dane Erik Magnussen in the 1920s," says Rolf. He also cites a fascination with the old Star Trekseries and its 'retro science fiction' look.
We assumed that the bodywork was a CAD exercise, but apparently it wasn't: Rolf used good old-fashioned pen and paper, and then built up the composite material as he went along, judging by eye. The whole front end slides in on rails, and can be fitted or removed in a couple of minutes. It's substantially lighter than the 40 kilos of plastic that Rolf removed from the stock bike.
Will it be a match for turbos and nitrous oxide where this scoot is heading in order to line-up for the 'StarrWars' drag strip at the next Glemseck 101 festival?
If it is, then 'E-LisaBad' could kick start—or should that be jolt?—a revolution in the high performance custom scene.
For all the full write-up, more details, hi-res photos and technical information, read the original article on Bike-Exif; Excerpts republished here by permission.