Now you can get Fords in both Rossi and Martin special editions.
Hands up who here has heard about a bloke called Guy Martin? Okay, so that's basically everybody.
When the Isle of Man TT comes around, or when he's performing one of his latest speed-based stunts, the logo of Guy Martin can almost feel as ubiquitous as that of Valentino Rossi at times.
After the release of the Rossi special edition Ford truck earlier in the year, Martin is now going head-to-head with his branding rival with a specially outfitted custom Ford Transit van.
And anyone who knows Martin – as you all do – will be familiar with his love of Transits.
In essence it's an MS-RT upgraded version of the regular, commercial vehicle with a few special bits and bobs. There's a new chunky bumper and front grille, some up-rated 'lazer lights', radiator protection and all-terrain tyres – all with various versions of the Guy Martin 'Skull and spanners' logo dashed around.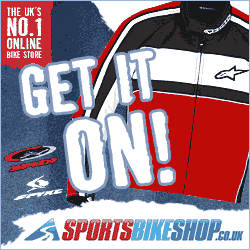 And inside it follows a very similar path to that of Rossi's Ford, with smatterings of logos and fancy stitched leather.
And as a special bonus – all buyers of the Martin edition van will get a 'gift pack' that comes with a numbered piece of the wall of death that Martin set his world record speed of 112mph on.
How fast will it go? Probably as fast as a regular Transit (unless the weight of all those logos is too much!) but not as fast as Guy has been used to…
If a customised, Martin Transit seems like something you'd be interested in, then UK car website Parkers have all of the details and an interview with the man himself.