Enduro-focused version of Honda's Africa Twin ridden by Honda's official clothing manufacturer.
Do you remember that stunning looking Honda Africa Twin Rally that was shown in March this year at the Motodays show in Italy and later declared to only be available for the local, Italian market? Well, clothing manufacturer Spidi have got their hands on it and they reckon it's pretty, pretty good.
According to the Spidi Test Rider, the bike 'felt more nimble on the ruts and sandy sections encountered during the test' and that 'whilst power delivery was more consistent, there is an extra kick where it's needed most.'
Which all sounds excellent. But the real juice of the story is that this looks like it might be turning into something a little more like the Enduro Sports Concept that we spotted at EICMA last year.
Speaking candidly via their press channels, Spidi reckon that 'this special version is still under development and there's not much we can say at the moment, but with this rugged design, different suspensions' set up, new trail rated 21-18 wheels, 5 more hp thanks to the Termignoni exhaust and 15 pounds less because of carbon fiber parts, this peculiar Africa Twin gets more off-road capable than ever.'
Which when you consider that Spidi are the official Honda clothing supplier for their Powersports division, this hints at the very least that something special this way comes.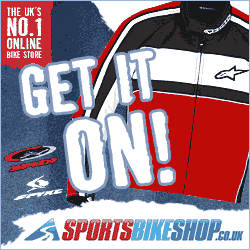 Maybe.
Source: Spidi