A new 'America' special edition kickstarts MV's new 'business unit' in the US.
There have been a few MV Agusta America editions over the years, but this new MV Agusta Brutale 800 decked in the 'stars and stripes' marks the first time that a modern triple-cylinder MV has been draped in the patriotic livery.
This special edition is limited to 50 bikes (because of course it is) and each will be numbered to mark the fifty states of the union apparently.
It'll officially be unveiled at Laguna Seca on the superbike race weekend of July 7th – 9th and will cost $14,998 when it goes on sale – exclusively in the US.
Here's what MV themselves say about the special edition,
"This numbered Special Edition has plenty to brag about, starting with a never-before-seen metallic blue colour scheme that catches the light with shimmering iridescence. On the tank, a star-studded motif, like the one on the 1973 750 S, takes the brand back to its glory days. Gloss black paintwork brings out the best in a host of details, such as the appendage in front of the instrument panel. The same colour and finish is seen on the front mudguard, which sports the MV Agusta logo; the rear one and the side of the radiator are decorated with the wording "America Special Edition".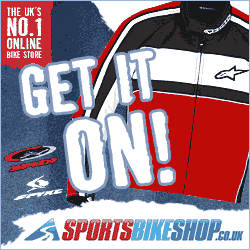 Even the Brutale America's seat has been specially designed, as a glance at the comfort-enhancing pillion padding clearly shows. The seat lining makes use of two materials, each characterised by a special finish; an added touch of class comes from the gilt stitching, which mirrors the finish on the tank.
In addition to the unique aesthetics, pure exclusivity is also seen in the triple clamp with its laser-cut "America Special Edition" legend and sequential production number: the same number found on the certificate which, housed in a smart wooden-plexiglass frame, is given to each new owner."
So as well as all of the special paint and various graphical reminders to this version being a 'special' one, owners of the new, spangled Brutale will also be able to take a plexiglass certificate home for their mantelpiece.
The most telling part of the whole announcement comes at the foot of the press release however, because the Brutale 800 America is being 'marketed by MV Agusta USA LLC, managed by Urban Motor Group Pty Ltd via a special business unit'.
MV state that this 'new organisational structure is essential for overhauling US operations' and is 'intended to be the first step into developing a stronger sales and dealer network to strengthen the Italian brand's position in what is seen as a strategic market for MV Agusta'.
Time will tell with that one. But for now, as the July 4th celebrations begin, what better way to celebrate than with a stars-and-stripes Italian motorcycle?
If you are one of the lucky owners, we expect you to send us pictures of your celebrations in the same way that Wyclef Jean from The Fuggees once did when confronted with such a patriotic piece of Italian machinery…
TODAY I AM 43 YEARS OLD! I look And feel 26! U cant keep à good Man down! Keep à smile when they want you to frown! pic.twitter.com/Jdsj8TOX

— Wyclef Jean (@wyclef) October 17, 2012