Despite headlines to the contrary, popular road racer Guy Martin has not quit the sport for good; he's just quit Honda.
After a couple of weeks struggling to find anything particularly newsworthy, it looks like British newspaper MCN has decided enough is enough and had to get a little creative with their headlines.
Announcing online today that the bridesmaid of the TT, Guy Martin, has decided that he is retiring from road racing after already pulling out of the Ulster Grand Prix, the news won't have come as much of a surprise to anyone. Especially after all the speculation and questions after a difficult TT on the new Honda Fireblade, and then the announcement he is to become a father.
The trouble is, as always with Guy Martin, the truth isn't exactly that straightforward. In fact, Guy Martin himself has had to take to his official facebook to set his fans straight, resulting in a rather awkward 'Fake News' story for MCN.
Guy states: "So a lot of folk have been talking asking about racing and what I'm doing. I went into the year right excited about the new Honda. I thought it would be great straight away and so did the team. I soon realised that it needed a lot of developing and it will be great but it needs time and I've got loads of other projects going on, that I'd rather use that time for. I didn't get involved to develop a bike over months and years, I was told I'd have a bike capable of winning straight away and that's why I couldn't turn down the opportunity"
He goes on to talk about this year's TT,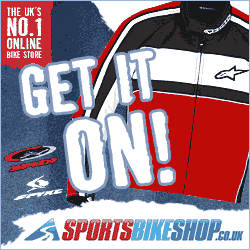 "TT was a bloody disaster, aside from walking the dog and racing the Mugen, I didn't enjoy it. It was clear even before that we were going to struggle and then it turned into me really being a test rider, which I did but after we did more testing at Cadwell a few weeks back, I said to the team the bike won't be competitive at the Ulster Grand Prix and they decided to withdraw me from the event, although they didn't tell me, which is OK as the decision was made for me"
So earlier stories stating that Guy had pulled out of the Ulster GP himself are, in fact, wrong. He didn't have a choice as Honda withdrew. He then continues to clarify,
"So I've not given up on racing or road racing, there's no unfinished business and I want to race classics and oddball stuff. All I've been thinking about recently is Pikes Peak and any spare time my brain has had is about Pikes Peak on 4 wheels. That job is down to me and if it doesn't work, it's my fault and I like that. So no regrets but I've got no plans to do anymore road racing on the Hondas this year"
With regard to his immediate future Guy Martin goes on to discuss his exciting Pikes Peak plans
"Nigel Racing Corporation (NRC) current plans are preparation for Pikes Peak and classic racing but the plans can change with the wind."
Pikes Peak could be a great move for Guy. Having been hugely respected by the fans he never quite getting it together to pull out a win at the Isle of Man TT. His popularity grew, and soon he took to the media limelight. On camera, Guy is an interesting and engaging man to watch. His fascination and passion for engineering draws in viewers. He simply has to know how everything works. Perhaps it can be said this passion outweighs the love he has of bike racing.
According to MCN, Guy has been quoted as saying "Racing's been good to me, but I'm bored of it. You spend the early part of the year preparing for the season – testing, racing, talking about it, and then doing it all over again. It's like Groundhog Day. It's time to stop." However his announcement this morning doesn't even hint at this.
Guy has the talent to have been on the top step of the podium, but it has always eluded him. However, it certainly hasn't left him unnoticed, walking around the TT paddock it is Guy who attracts the most attention. He is adored by his fans and will certainly be missed should he decide not to race next year.
Of course, this isn't the first time the industry have announced his retirement and it was quite a shock when he announced he was returning to road racing in 2017 with Louth based Honda and with 23 time TT winner, John McGuinness at his side.
We wish Guy all the best for the future and are sure this isn't the last we will see of the fan's favourite.
MCN has announced the full interview about Guy's retirement will run in this week's edition. However looking at both articles which hit the press this morning, it would appear that Guy has made no such official announcement and whilst MCN have been quick to run with the story, Guy Martin has been just as quick to counter the news and to let his fans know the truth.