With an announcement due from the Volkswagen Audi Group at any time, rumours swirl but future remains unclear.
Reuters have been enjoying the Ducati sale rumours more than most news agencies it would seem. With various rumours and purported claims from sources 'close to Ducati' being published on a nearly weekly basis, it's clear that something is happening at board level of VW, but nobody seems to be sure as to exactly what.
The latest in the long line of 'company x looking to buy Ducati' stories comes from the news agency and – despite the CEO of Bajaj motors being bullish as to their alleged offer only last week – this time it's the well-known Italian fashion brand Benetton who are in the running.
Alongside a reported four other bidders, the Italian clothing manufacturer is said to have tabled a bid believed to be in the region of $1.2 billion dollars for their compatriot motorcycle maker.
The other bidders are believed to be Eicher Motors (owners of Royal Enfield), Bajaj (who also own a large proportion of Austrian bike manufacturer KTM), a private equity firm and, perhaps even a bigger outside bet than Benetton, Polaris; the makers of Indian Motorcycles and (until this year) Victory.
However, there do appear to be some issues.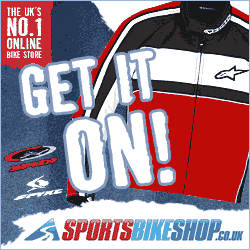 Outside of the market valuation – which at $1.4 billion is over 10 times greater than Ducati's core earnings – the biggest stick in the spokes for any potential sale is that the VW board don't appear to want to sell.
As mentioned when we first wrote about the story, the sale of Ducati would streamline the troubled automobile manufacturers' portfolio, but other than reducing the holdings and injecting an initial amount of cash into the company, there appears to be little else compelling on the table in order for the suits at Volkswagen to action the offloading of the brand. Especially as it remains profitable and is growing year on year.
A spokesperson for the VW's group council over the weekend has been quoted by Reuters as saying, 'Everyone who can read the VW half-year results should know: We don't need money and our subsidiaries are not up for grabs by bargain hunters.'
And with VW well-poised as a company to take advantage of the upcoming global transition into non-Internal Combustion Engine'd transport, offloading a company with such a rich heritage and brand as Ducati would seem to make very little immediate sense.
But that's just the rumour for this week….