Ducati one-two lost after bizarre last few laps in Misano ends in another Kawasaki win.
After taking his 40th career Superpole – his second of the season – Tom Sykes had one eye on the podium for race one. That's if he could fend off the attention of his Kawasaki Racing teammate, Jonathan Rea of course. And the attention of the ever-improving Ducati's of Marco Melandri and Chaz Davies.
What neither the Kawasaki or Ducati boys factored into their podium premonitions however was the Yamaha of Van der Mark.
Or indeed, the bizarre outcome of a Superbike race that saw several dramatic crashes within the final few moments after a fascinating opening ten or so laps.
Van der Mark rode an incredible opening thirteen laps, leading narrowly from Rea and Davies with just seven left to go until a potential Yamaha podium, but then…
Having lost a little bit of time on the previous lap, Van der Mark – with his Yamaha garage cautiously cheering him on at every turn – looked to lose the tyre from the rim of his wheel and he launched into the air, ending up in the gravel and out of contention.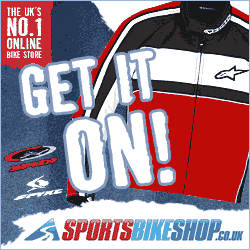 Race leader @mickeyvdmark crashes! #RiderOK#RiminiWorldSBK pic.twitter.com/lVC46rQRkI

— WorldSBK (@WorldSBK) 17 June 2017
And so, we were left with the usual suspects of Rea and Davies fighting for the podium, and with the Ducati of Melandri in third.
That was until the Ducati's both took Rea for the lead with three laps to go, only to see the Italian – chasing Rea after he had regained second place – also throw his bike into the gravel on the final lap.
With the drama seemingly over for the day, everybody settled in for a familiar final four lap battle between Rea and Davies…
But then, with just corners to go and with Davies leading Rea for the top, podium spot, Davies fell whilst driving out of the final hairpin, causing Rea – due to his close proximity – to ride over the back of the prone, track-laying Davies, causing the Kawasaki man to join Davies on the asphalt. opening the doorway for Sykes to take the previously unlikely-seeming honours.
With 3 corners left @chazdavies7 and @jonathanrea crash!#RiminiWorldSBK pic.twitter.com/OMQ1aSEVqR

— WorldSBK (@WorldSBK) 17 June 2017
Which meant Sykes taking the lead from Alex Lowes for Yamaha, who took an unlikely second.
Immediately after the race – with Jonathan Rea continuing on the circuit after finishing third – Rea ran over to the Aruba.it Ducati man whilst he was being treated by medical staff to see if he was ok.
A nice, compassionate thing to see considering their history since the Assen round earlier in the year.
Davies was immediately taken to Rimini hospital for further medical assessment. And the crowd and TV spectators were left to ponder over exactly what it was that they had just witnessed.