After posting nothing but videos of dogs and bears on motorcycles for the last couple of days, we hope you'll forgive us a little more cerebral content for a while.
Having spent the past 30 mins listening to this excellent documentary from the BBC World Service, we'd like to recommend that you give it a blast into your ears too.
Produced as part of their 'The Conversation' series – where they juxtapose conversations between two women from different cultures – this week's episode asks 'What draws women to motorbikes?'
This is what the BBC say about it,
"Aleksandra 'Ola' Trzaskowska's love of motorbikes is not about the machine itself – it's about the thrill of seeing new places from the best vantage point. She used to be a lawyer in Warsaw but gave it up to do what she loves. Ola now runs tours on two wheels to Asia, North Africa and both American continents. On her own trips she always aims to steer off the beaten track – preferring to explore countries like Afghanistan alone. Even breaking her leg in a road accident in Cuba hasn't put her off – as soon as it's mended she'll be straight back on her bike.
Naomi Irungu took up bikes two years ago when she met her motorcycle-mad husband. She had always wanted to try but was warned off by her family after her uncle died in a motorbike accident. Naomi says it can be exhilarating and scary riding through rush-hour traffic in Nairobi, dodging the matatus and the taxi-bikes that jostle for road space. She loves to get out of the city on longer rides and for her recent wedding she was picked up by a 15 strong motorcade of biker friends."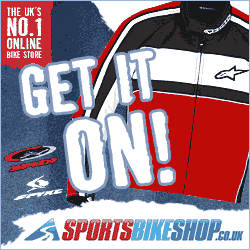 ---
We've always found the reasons for people getting into, and onto motorcycles fascinating, and this fabulous programme/podcast from the BBC is another great addition to that narrative line.