What are you going to be doing when you're a nonagenarian?
Rochelle Sims is a 91 year-old director and board member of a Chicago-based 'broasted chicken' company. And, when it was announced at a board meeting that 'The Broaster Company' would be getting involved on a sponsorship level with Honda and RoadRace Factory, Rochelle was the first person in the room to put up her hand and shout 'I want to ride that motorcycle'.
And so she did.
Kitted out in full leathers and a Kevin Schwantz replica lid – naturally – she rode pillion on a Suzuki GSX-R1000, piloted by former Superbike race Chris Ulrich.
"I had an opportunity to to something I thought would be an experience", she says in the accompanying video.
"That was a wild ride, and [I have] no regrets".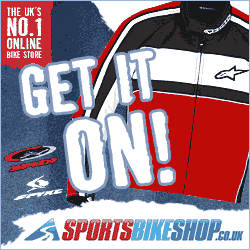 Rochelle Simms Dunlop M4 Suzuki Two-Seat Suzuki… by motoamerica
Source: Daily Motion