Riding the Isle of Man can be dangerous, so can watching.
The people in charge of the Isle of Man TT have had to restrict spectator access to part of the course on the inside of the Ramsey hairpin after a sidecar drove straight into the crowd.
In a video of the incident, the Sidecar outfit can be seen spinning out of direction as it reaches the apex of the hairpin before mounting the curb and running into an onlooking crowd.
The statement released by the organisers thankfully confirms that there were no casualties,
"Following the incident that occurred at Ramsey Hairpin during the third lap of the Sure Sidecar Race 1, ACU Events Ltd has confirmed that the area immediately adjacent to the hairpin on the left hand side will now be a restricted area to spectators for the rest of the TT Races meeting.
No spectators were reported to have received injuries in the incident and a review into the incident is currently taking place.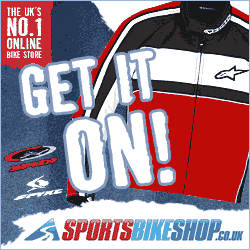 Riders will continue to be advised before every race if there are any damp or wet patches, which may affect adhesion on the course.
As is standard practice after every TT race meeting, ACU Events Ltd will carry out a full and comprehensive review of the event, which will include looking at all prohibited and restricted areas around the course."