We had to wait a while, but it was worth it.
After the delays caused by the changeable weather at the Isle of Man all week, today finally saw the opening Superbike race of 2017, and it was worth it.
After taking the lead on the fourth lap, it wasn't all plain sailing for the Tyco BMW man however, with fellow BMW S1000RR rider Peter Hickman hot on his tail for much of the final two trips round the course.
In fact, it was a race won as much in the pits as it was on the course, with the TYCO BMW team making two stunning pit stops that made as much as ten seconds up for the man from Bingley.
Third step on the podium went to Dean Harrison with a ride that saw him lead for much of the early race, James Hillier took fourth, just in front of Dan Kneen and Michael Rutter in fifth and sixth respectively.
Special mention should also be made to the Norton team, with both Johnson and Brookes finishing in six and seventh place.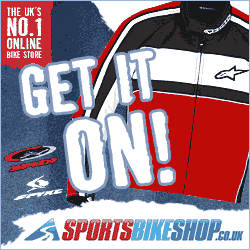 It wasn't such a great race for either Michael Dunlop or Guy Martin however, with Dunlop retiring with bike problems early on, whilst Martin fell – unhurt – on the first lap.
The Superbike Race Results in full:
Ian Hutchinson – Tyco BMW
Peter Hickman – Smiths BMW
Dean Harrison – Silicone Engineering Kawasaki
James Hillier – JG Speedfit Kawasaki
Dan Kneen – Penz13.com BMW
Michael Rutter – Bathams BMW
David Johnson – Norton
Josh Brookes – Norton
William Dunlop – Temple Golf Yamaha
Martin Jessopp – Riders BMW