British firm to supply engines for the Moto2 class from 2019.
New was leaked five months ago, but now it's officially official; UK motorcycle manufacturer Triumph are going to be providing the engines for the Moto2 World Championship from 2019.
In a three year deal signed with Dorna – MotoGP's commercial owners – Triumph will be supplying all teams with a race-tuned 765cc Street Triple engine, based on the new 2017 Street Triple.
"This is a significant moment for Triumph that brings an exciting new chapter to our 110-year racing history and builds on our celebrated TT and Supersports race winning triple engines." – Paul Stroud, CCO Triumph Motorcycles
Triumph state that this is a 'significantly developed' version of the Daytona 675R powerplant used in BSB and the Isle of Man (amongst other places).
Here's the list of official modifications:
Modified cylinder head with revised inlet and exhaust ports for optimised gas flow
Titanium valves and stiffer valve springs for increased rpm
Low Output race kit alternator for reduced inertia
Taller 1st gear ratio
Race developed slipper clutch which will be tuneable
Specific race ECU; which will be developed with Magneti Marelli
Revised engine covers for reduced width
Different sump to allow for improved header run
Sounds good. (Who are we kidding?! We have no idea what any of this really means, but it sounds impressive).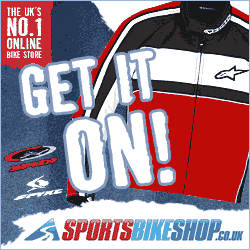 What it means in 'real terms' (and these are Triumph's words) is that the race specification Triumph 765cc Moto2 engine has been developed further to allow the engine to breathe more freely and to rev harder than the production bike; increasing overall performance.
Plus, 'other changes have been made specifically to adapt the engine for race use.'
Outside of the obvious kudos and respect we need to give Triumph for securing the deal – and for replacing Honda who seem to have given up on the 'middleweight' Supersport market entirely – the really interesting takeaway of this news for the rest of us, is the natural speculation that this could be the spark that ignites Triumph into redeveloping and reviving the Daytona 765R.
Despite sources close to Triumph constantly telling us that this is NEVER going to happen, it's ok for us to keep the dream alive, isn't it?
(Plus with another few years to wait, this means that we've got longer to lose that weight so that we can fit back into our leathers).