British motorcycle manufacturer were the only team to have two top-10 riders in both the Superbike and Senior TT races.
It was a tricky race week at the Isle of Man TT for many teams and riders, but one shining example (literally) of how success can be measured has come from Norton.
They've been chosen by the TT race management team – including Gary Thompson (Course Clerk) and Richard 'Milky' Quayle (Rider Liaison Officer) – as the winners of the 'Motul Award for Technical Excellence'.
The award was given in recognition of Norton Motorcycles being the only team to have achieved two top ten finishers in both the RST Superbike and PokerStars Senior TT Races.
"I'm really pleased to win this award but it reflects exactly what we've strived to create at Norton – a team.  And that team is built not only from the two great riders that we have on our bikes and an excellent group of mechanics supporting them on event but is also for every one of the people who work for us including all of the hard working people back at the factory who have helped us to get where we are today." – Stuart Garner, CEO Norton
David Johnson finished seventh and one place ahead of his teammate Josh Brookes in the opening Superbike race of the week. In the closing Senior TT race, they switched finishing positions with Brookes finishing sixth and Johnson just a little behind in seventh.
Brookes can now also claim the fastest Mountain Course lap by a Norton to 130.883 mph with Johnson not far behind, after also adding another 130mph lap to his record during the Senior TT.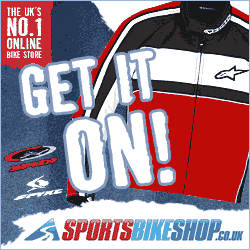 Consistency is always a big target point for race teams – especially so on a course as treacherous as the Isle of Man – so Garner and his team should feel especially pleased and proud.