Crazy though it might seem, this weekend's German Grand Prix marks the half-way point for the 2017 MotoGP season. Qatar seems like only a few weeks ago but 8 races in and everything is still up-for-grabs.
The Sachsenring Circuit is playing host for the 20th successive year and the track itself brings a technical challenge for the riders and their teams. At 3.7km it's the shortest circuit on the calendar and it's average speed also makes it one of the slowest due to the tight and narrow nature of the track that sees no real gap between one corner and the next in the first section, which means brake temperatures get very high! Elevation changes play their part with riders plummeting down the "waterfall" at turn 11 before making their way back up for the final two corners.
With turning being so key at the German circuit, balance will be top of the list for setup this weekend, with a compromise needed between getting enough weight on the front but not too much or the tyre will suffer.
Speaking of tyres this could be a very interesting weekend. The track has been resurfaced this year but due to noise restrictions, the circuit wasn't able to host a test for Michelin, meaning there is zero data on the surface and how it behaves. Because they're coming in blind Michelin have brought 4 tyres for the front and rear slicks, rather than the usual 3. There will be soft, medium and hard compounds available, with two versions of the medium front and two of the hard rear.
The tyres will all be asymmetric with a harder left shoulder due to the much larger number of left turns (10 to 3) which tend to cause very high temperatures on that side and a softer right shoulder to allow the tyres to heat up quickly when that side is put to use, albeit briefly. Because of the expanded allocation FP1 and FP2 for the MotoGP riders will be 10 minutes longer than normal to give them more time to evaluate (some think there's not enough time for 3 options so 4 is a lot more work).
Of course, accompanying the tyres in the list of possible upsets this weekend is the weather. Sachsenring likes to bring the rain and 2017 looks no different with all three days looking likely to get some at some point. Although if it rains on Friday the extra time for slick tyre work could prove pretty to be pointless.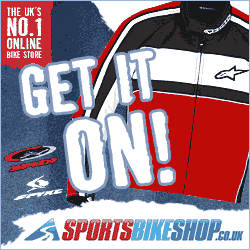 Coming to Germany after his win last weekend in Assen, Valentino Rossi will obviously be hoping for another good race at a circuit where he's won 4 times in MotoGP, but with 2017 the way it is he knows it'll be hard to predict exactly what could happen: "I don't know what to expect. We've seen that from one track to the other everything can change". One thing that could be a slight problem for Valentino this weekend is the fact that he still only has 1 of the new Yamaha chassis he raced in Assen; with the weather looking temperamental the Italian admits that a flag-to-flag race with two different chassis could prove difficult but they'll do everything they can to have both ready for whatever the weather throws their way.
For his Yamaha team-mate Maverick Vinales, Sachsenring needs to be a case of making up for his mistakes in Assen and more importantly, learning from them. While it was his error in the race that caused him to crash he was in that position due to a poor qualifying, with the two combined factors ending his race in the gravel and losing him the championship lead. But Maverick is in a fighting spirit ahead of this weekend: "Of course, our target will be to win, not only to be on the podium. We have to be focused on recovering our position as the leader in the championship."
But the man currently leading the championship won't be giving up his position without a fight. Andrea Dovizioso has never led the title chase in MotoGP before and he's enjoying every moment of it, despite it surprising even him. Sachsenring hasn't been an easy track for Ducati, mainly because it puts emphasis on turning which is one of Ducati's slightly more troubled areas. But with a new surface and the tyre situation unknown he's hopeful they'll be able to start from a good position and build upon it over the weekend. Fellow Ducati rider Jorge Lorenzo has had a couple of podiums at the track in the past, despite it being one of only 4 current circuits where he's never won, but following on from his struggles in Assen the weather in Sachsenring could again prove to be his main issue if conditions are mixed, although the new asphalt will help with grip at least.
On paper, the riders to beat this weekend will be on a Honda, with Marc Marquez having won the last 4 races at Sachsenring in MotoGP, with 7 successive victories if you include the smaller classes as well, all of them from pole. Dani Pedrosa has won also 4 times in Germany, making it 7 successive wins for Honda in recent years. For Marc, he acknowledged that the new surface will make a difference, with grip, in particular, changing but it's a circuit that he likes, the number of left corners being his usual reason. While Dani said working well over the weekend, particularly with the tyres would be the key at one of his favourite circuits. He'll be hoping to have more luck getting heat into the tyres than he did in Assen.
The shortness of the track and it's slower speed puts less of an emphasis on the top speed and engine performance which can help some of the other teams on the grid; Aprilia, Suzuki and KTM will all be hoping to continue improving this weekend, with Aprilia in particular in a good position for a decent result with Aleix Espargaro. The satellite Ducatis will no doubt be making their presence known, especially Danilo Petrucci after 3 great weekends in Mugello, Barcelona and Assen. The Italian wants to win and he's not being shy about it.
The Tech 3 Yamaha duo are likely to be strong again, with Jonas Folger making his first start at home in the premier class, and LCR Honda's Cal Crutchlow is another rider to keep an eye on this weekend.
The first part of this season now enters its final stage and we're no closer to knowing what will happen than we were before the lights went out in Doha. Every weekend is different with the performance of riders and bikes swinging in sometimes very different directions.
The weather, the track surface and the tyres will play the key roles in this weekend's performance, but who will find the best balance and take the top step on Sunday? Your guess is as good as mine.