As morning dawned at Mugello the anticipation of race day buzzed palpably through the air as the hills started to stir after their mostly sleepless night.
But before the racing could begin there was some important business to attend to; saying goodbye to Nicky Hayden. At 10:20 the paddock filed onto the starting grid to join Nicky's championship winning Honda from 2006 for 69 seconds of silence. But after the eerie quiet of a Mugello in mourning came the noise, when as one the circuit gave the Kentucky Kid one final round of applause.
Moto3 kicked off the day with an incredible race that saw a group of 15 almost inseparable riders fighting for the podium before Andrea Migno from the Sky VR46 team put in the ride of his life on the last lap to take his first Grand Prix victory in front of a jubilant home crowd, with Fabio Di Giannantonio making it two Italians on the podium.
But while Moto3 normally holds the honours as the best race in the smaller classes, Moto2 gave it one hell of a run for its money. Mattia Pasini was a precision demon, hitting every single mark with sheer perfection, despite his unorthodox bike setup of having both clutch and brake on the left side. On the final lap, he came from third to take an incredible race win, his first since 2009. If the crowd were loud for Migno, it was nothing compared to the wall of noise for Pasini.
Two races down, two Italian winners. But could MotoGP secure il triplo?
With yellow smoke already filling the air, it was time to find out. The front row saw three men in less than perfect condition; on pole was Maverick Vinales who had bruised his arm crashing on Friday, in second the home hero Valentino Rossi was still recovering from his motocross accident, with a question mark over how long he would be able to push for, and next to him, Andrea Dovizioso, who had been struck with a nasty case of food poisoning the night before, leaving him wide awake at 4am as his stomach protested.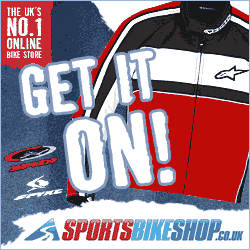 Dovi had missed much of morning warm-up, only doing a couple of laps and not setting a time. He wasn't too concerned as he was confident he had already secured a good setup for his Ducati. Before the race, he took on some rehydration salts and received an anti-nausea injection, but riding around Mugello with food poisoning? Rather you than me.
As the lights went out it was Valentino Rossi that got the hole-shot, leading into turn 1, while Aprilia's Aleix Espargaro made a jump-start. Jorge Lorenzo began well on the Ducati, moving up to third behind Maverick Vinales, before using his superior top speed to pass Rossi down the straight to begin lap 2. But Lorenzo's former team-mate was not about to let him get away easily and was back in front at San Donato. The two great rivals continued to battle it out, with Lorenzo leading again a corner later before Rossi put in a pass of pure perfection at Scarperia turn 10.
Onto the front straight to start the third lap and Andrea Dovizioso had a huge moment on his Ducati coming over the crest, only just bringing the Desmo back under control, while his team-mate again hit the front past Rossi at turn 1. Further back Danilo Petrucci had made a great start on his Pramac GP17, moving to 5th from his grid position of 9th. As the front group came around to Scarperia, Rossi mirrored his move the lap before to again pass Lorenzo for the lead, with the Spaniard running wide allowing the other Yamaha of Maverick Vinales to also slip past him into second.
To start lap 4 Dovi moved to 3rd in front of Lorenzo, while Rossi just held off Vinales, before MotoGP's Top Gun passed The Doctor at turn 10, imitating Rossi's earlier moves on Lorenzo. At the final corner of Bucine, Dovizioso also made it past his compatriot, pushing Rossi back to 3rd, although his advantage only lasted until San Donato when Rossi outbraked the Ducati.
A lap later and again, the Ducati used it's greatest advantage, with Dovizioso storming past Rossi on the straight to begin the 6th lap, this time holding off Valentino to secure second at T1. For a few laps, the action settled down with Petrucci now chasing down the front three, while Alvaro Bautista was putting in a great ride on the Aspar Ducati in 5th while battling Marc Marquez.
On lap 14, Dovi passed Vinales to hit the front for the first time in the race, showing his prowess in braking matches his bike's in speed, but the remarkable part was after the race when he admitted "I decide to overtake him, but without a strategy", for a rider as considered as Dovizioso, making a move without a plan showed just how confident he was with his bike. On the same lap, Petrucci slipped past Rossi to take third. While Pol Espargaro retired his KTM due to an "electrical problem", out front Dovi was able to quickly pull a gap on Vinales, leading by 0.7 as they crossed the line with 9 laps left.
At this point, Rossi was visibly beginning to drop off the back of the front three, well visible for Valentino, he was still putting in an incredible performance but after the race, the Italian said that "with 8 laps to go I was finished." His fellow countryman Petrucci certainly wasn't though as he took second from Vinales, repeating the same move he'd made on Rossi at Bucine.
Three laps after his brother retired, Aleix Espargaro joined him in the pits as his Aprilia had gained a gear selection issue after an earlier run off track.
With 4 to go, Vinales had been stuck on Petrucci's rear tyre since he'd passed him and at San Donato, the current championship leader took back the second place. Petrucci did a quick check behind him to see where Rossi was and with that, the podium was settled.
The last lap still saw some drama though, with Dani Pedrosa attempting to pass up the inside of Cal Crutchlow at turn 10. Unfortunately for the Honda duo, Pedrosa lost the front, sending them both into the gravel and out of the race with just 5 corners between them and the chequered flag.
As Andrea Dovizioso crossed the line to take his first win of 2017 he was greeted by an eruption of noise from the home fans. For much of his cooldown lap, he seemed to be stuck in limbo between joy and disbelief, but as he stopped in front of the Tribuna Ducati at Correntaio he pointed out the name emblazoned on his leathers "Desmo Dovi" and with it the fact that he'd just written a little bit of MotoGP history.
Parc Ferme matched the madness of Mugello, with Moto2 winner Mattia Pasini congratulating Danilo Petrucci in pitlane before Ducati CEO Claudio Domenicali got his hands on him once he'd dismounted. As the race winner rolled into the number 1 spot, he was greeted by a passionate chant of "Dovi" at a circuit where the four letter mantra is normally for a different man.
The fans are integral to Mugello. Yes they are partisan, yes they generally tend to wear yellow and sure, they can be a little bit pazzo (crazy to the non-Italiani among you). But on Sunday, they did themselves proud, because an Italian winning? On a Ducati? You won't find many complaints about that. As they streamed onto the grid for their traditional invasion, a giant Petrux flag was unveiled while the man himself was in tears as he received his trophy and the reception for Dovi? Well, that was really special and he basked in it as the crowd exploded when he lifted the trophy before he had a little go at conducting them through the national anthem Il Canto degli Italiani, although it's also known as Fratelli d'Italia or Brothers of Italy, which is probably more fitting for Mugello's Italian heroes.
Both of the Ducati men on the podium proved a point on Sunday, for Danilo it was his first dry podium and only his second in Grand Prix. After a DNF in Le Mans, it was the perfect comeback for MotoGP's policeman as he showed why he's the Pramac rider with the GP17 this year. For Dovi, it was also a weather-related success as he took his first dry win in MotoGP, and he achieved every Italian rider's dream: winning the Italian Grand Prix on an Italian bike.
Andrea is nothing if not realistic though, often to the point of being called negative by some, and he knows that Mugello does not mean Ducati's problems are solved, far from it. It was a case of the bike suiting the track, hardly surprising due to the amount of testing they do there, and the negatives being outweighed by the positive characteristics of the circuit. The win moves him to second in the championship but there's still work to be done if he hopes to stay there. The same can be said of his team-mate Lorenzo, who continues to lose time under braking, which is restricting his ability to be fast through corners; arguably the Spaniard's strongest weapon in his arsenal.
The satellite Ducati's of Petrucci and Bautista are a cause for celebration though, with Bautista's 5th place more than making up for two consecutive DNFs in the previous races. Alongside Dovizioso, they have to be marked down as two of the top performances of the weekend in MotoGP.
For Yamaha, it proved to be a positive weekend. Maverick Vinales rode a smart race to second, prioritising precious championship points over another win ahead of his home race next week and Valentino Rossi should be very proud of his 4th place finish considering a week ago he was in bed, in a lot of pain and unsure if he'd be riding at all at Mugello. He remains third in the championship, 4 points behind Dovizioso and 30 behind Maverick, which considering he is the only rider in the top 5 not to have won a race so far this year is quite remarkable.
For Tech 3's Johann Zarco it was a good performance, if slightly more subdued than we've become accustomed to from the rookie. 7th is a strong finish from him, especially as he says he learnt a lot during the 23 laps. Unfortunately his team-mate Jonas Folger had a slightly harder time, finishing 13th as he continues to struggle with consistency at the start.
It was a tricky weekend for Honda, with only 1 finishing in the top 10. The tyres proved to be their downfall in Mugello, with the compound too soft for their front-end demands, even for Dani Pedrosa, who struggled with both front and rear grip during the race, while Marc Marquez found the front was causing him problems in corners, which were further compounded as he was getting caught on the straight. The other Honda's had a more mixed time, with Cal Crutchlow and Jack Miller suffering alongside the Repsol riders, but Tito Rabat having a brilliant weekend with his closest finish to the front so far, despite losing rear grip towards the end.
At Suzuki, Iannone started the weekend in much the same way as his fellow Andrea but started the race well before running into issues with braking and carrying corner speed once the tyres dropped. Luckily for the Japanese factory, he believes they now have some ideas on how to fix it.
KTM had a difficult race with Pol retiring and Bradley Smith running into a rear brake issue, while Aprilia lost Aleix due to a gearing problem and Sam Lowes lost the good feeling that he'd built up with the front end.
In my race preview, I wrote that Mugello demands nothing short of perfection and that proved true on race day. Andrea Dovizioso rode the race of his life in MotoGP, with Mattia Pasini and Andrea Migno doing the same in their respective classes. Is Mugello itself perfect? No, but I can't think of anywhere that comes closer and on Sunday it did us proud, making the perfect tribute to the men in everyone's thoughts this weekend; Nicky Hayden, Luis Salom and Marco Simoncelli.
From Mugello, there are a couple of days to catch a breath before the paddock crosses the sea to Spain and Barcelona, where track alterations could make things very interesting.
6 races down, 12 to go. It's MotoGP, anything could happen…