If before Mugello you had told Andrea Dovizioso (or just about anyone else really) that he would not only win the Italian Grand Prix but that a week later he'd also win at Montmelo, he'd have looked at you as though you'd grown two extra heads.
That's not because Dovi is underestimated, although arguably he is, often even downplaying his own chances (he says he's realistic, not negative), it's a study of recent form. Maverick Vinales won 3 of the first 5 races, with Dani Pedrosa and Marc Marquez sharing the honours in the other two.
Andrea was strong in Qatar, finishing second, before being taken out by Aleix Espargaro in Argentina. He lacked pace in Austin and in Jerez he struggled for much of the weekend in high temperature, low grip conditions finishing 5th. Le Mans saw him push hard but a return of pain in his forearms. Despite four difficult races, Dovi never finished lower than 6th in the first five races of 2017. Then came Mugello. He was unwell with food poisoning, he hit the front without a plan but he managed his race and his tyres perfectly to take the win.
But winning in Barcelona? Surely not. In the test at Montmelo before the Italian Grand Prix, Ducati did some work on making the engine more manageable with Dovi finishing 9th in the combined times but saying that he missed "something", while team-mate Lorenzo was 2nd behind Marc Marquez.
Coming into this weekend, Andrea spoke for everyone when he said: "I don't know exactly to expect.. this year every weekend seems to be a different story". After a tricky Friday due to track conditions and the chicane that was then changed, Dovi was 4th in combined times and was focussed on consistency to manage the tyre drop. Saturday showed he had the race pace and he was able to slightly improve his feeling with the bike, but qualifying in 7th wasn't the best starting position for Sunday's race.
Jorge Lorenzo was showing impressive early pace on the Ducati.
Dani Pedrosa was far and away the favourite, with low grip, high temperatures and high tyre wear, few manage their tyres as well as Dani and he was on pole. He got the perfect start, putting his worries about the Ducatis next to him beating him into turn 1 to rest, but only temporarily as Jorge Lorenzo took the lead at turn 5. The man starting from 3rd, Danilo Petrucci, had a terrible start. The Pramac rider moved over to the left-side of the track to take a sweeping outside line into the first corner but had heavy contact with the side of Marc Marquez. Both riders escaped unscathed, but Petrucci dropped down the field and was later given a warning by Race Direction.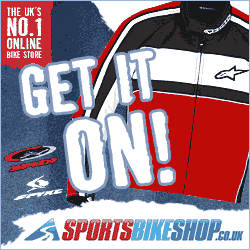 As Dovizioso moved into 5th past Alvaro Bautista, Marc Marquez made the move on his team-mate to take 2nd. While the Yamahas of Valentino Rossi and Maverick Vinales found themselves in 12th and 16th respectively as the riders came around to start lap 2. Still out front, Jorge Lorenzo was showing impressive early pace on the Ducati, particularly considering he had chosen the hard tyres front and rear. But by lap 6 Marquez was all over his fellow Spaniard, taking the lead at the chicane despite his Honda moving all over the place underneath him in braking. Pedrosa followed his team-mate not long after, taking second from Lorenzo, before Andrea Dovizioso also came through for third, pushing his team-mate back to 4th.
At this point in the race, Lorenzo was clearly having issues with his tyres, being passed by both Jonas Folger and Danilo Petrucci to drop back to 6th. One lap later, Dani Pedrosa took the lead off Marc Marquez at turn 1 before the World Champion was pushed back to 3rd as Andrea Dovizioso passed him at turn 10, while Aleix Espargaro had his 3rd DNF in as many races, as Aprilia continues to struggle with reliability despite a very promising performance from Aleix earlier in the weekend.
For the next few laps, Dovi was content to just stay behind Dani, with both of them riding at their smoothest to save their tyres as much as possible. On lap 17, with 9 remaining, Dovizioso eased past Pedrosa into turn 1, with the poleman not really fighting back due to tyres and the Ducati's superior speed even when Dovi wasn't pushing. On the next lap, Pedrosa was passed again, with Marquez making his way through at turn 4, while Dovizioso just pulled away at the front.
Further back, Lorenzo had found a second wind and made his way back from 8th to 4th in the space of a couple of laps, probably due to his harder tyres having a bit more left in them compared to the mediums being run around him. With 2 laps left, Danilo Petrucci crashed out, while Andrea Dovizioso dropped into 1'48 for the first time in the race, having run an incredibly consistent pace from the start. The last lap saw a settled top 4, but the fight for 5th was still in force with the Tech 3 rookie duo of Jonas Folger and Johann Zarco battling it out for Top Independent, with Zarco beating his team-mate, who was almost riding sideways at the end due to his tyres being completely gone.
Coming out of turn 12, just 4 corners sat between Dovi and the chequered flag and he knew it, already waving his hands as he looked behind him to see no-one there. With a wheelie over the line greeted by the delighted Ducati team, Dovi took his second win of 2017. He had to wait 7 years after his first MotoGP victory to get his second in Sepang last year, it was another 7 races before he stood on the top step in Mugello to take his first dry win and just 7 days before he gave Ducati their first back-to-back victory since Casey Stoner in 2010. As Dovi joked in the post-race press conference, perhaps he should change his number.
Marc Marquez came back from a weekend which saw him crash 5 times (6 if you include him tripping over his starter in the pitlane during warmup) to take an important 2nd place at home. By his own admission, so many falls were tough to take mentally but his team rebuilt his confidence, reminding him that he was still the same Marc and that nothing had changed. It seemed to work, he rode a sensible race, pushing when he could to overtake, but recognising that second was the best he could do when faced by Dovi's superior pace and that 20 points would be crucial for the championship. He also showed his ability to laugh at himself hasn't lessened as he mocked his fall not once, but twice, taking a tumble both in Parc Ferme and on the podium to the delight of his team.
For fellow Repsol Honda rider Dani Pedrosa, Sunday's result was obviously disappointing after being so strong on Saturday but he simply didn't have the same feeling during the race. They'd tried a late setup change with the suspension to help with tyre durability, but it didn't work, leaving him on the limit with the medium compound, although he doesn't believe the hard would've been better as he didn't have as good of a feeling with it. 3rd for Dani is still a good result, it places him just 4 points behind Marquez in the championship and makes up for the DNF in Mugello.
Rossi's been saying that the 2017 M1 has issues with turning from the start of the year.
Jorge Lorenzo's comeback in the latter stages was good to see, he pushed at the beginning which made his tyres drop off slightly earlier than expected from the hard, but running a harder compound to most of those around him allowed him to move back through the field towards the end. It was the first time with Ducati that he's finished within 10 seconds of the lead and showed another step forward as he continues to try to make everything feel just a little more natural for him; he's still having to think a bit too much rather than it being second nature as it was with Yamaha, but that can only really be solved with time on the bike and we're only 7 races into the season.
For Yamaha, Sunday was ultimately about damage limitation. They struggled in similar conditions in Jerez, so it wasn't too surprising when they found difficulties in Barcelona. What could prove slightly problematic, however, is that the two riders don't agree on the cause of the problem. For Maverick Vinales he doesn't understand how things changed so suddenly, saying that "the problem is not the bike". He doesn't believe the 2016 bike would be any better and the sudden change in fortunes has hit the Championship leader hard.
But Valentino Rossi disagrees. He's been saying that the 2017 M1 has issues with turning from the start of the year and with higher temperatures it understeers more than usual (and more than the 2016 chassis run by Tech 3). With understeer further stressing the rear tyre on an abrasive surface, spinning on corner exit becomes a problem, add in low grip conditions with high temperatures and it's not hard to see why they weren't getting anywhere fast.
I don't think it's time for Yamaha to panic though. While a few races in the second half of the season will see higher temperatures, most of the tracks left have decent grip. They have 2 new frames to run in the post-race test in Barcelona which may improve things, but it's unlikely they'll find themselves in the same position as this weekend before the end of the year.
The Tech 3 rookies impressed again though; Jonas Folger qualified top Yamaha and both of them rode well in the race. Zarco fought to 5th from 14th and Folger achieved his target of improving in the first part of races, an area where he's been struggling since the start of the season.
I was impressed with Aleix Espargaro on the Aprilia throughout the weekend, he showed good pace in all the practice sessions and qualifying before ultimately being let down by his bike. He realised early in the race that the engine performance wasn't where it had been, but kept going until the RS-GP stopped. If the team can iron out some of the reliability issues, which also affect Sam Lowes, then they could make some really big steps forward in their results.
Suzuki and KTM struggled a little more than expected, with Pol Espargaro the sole rider for the Austrian team after Bradley Smith injured his finger and withdrew from the weekend due to the high infection risk (don't look at his Instagram if you're squeamish). KTM continue to struggle with turning (not that they're alone on that front) and the low grip made it worse for Pol, but the data and experience they gathered will help them moving forward. Suzuki's Andrea Iannone was nowhere to be seen on Sunday, as low grip made him feel constantly on the limit and despite the good feeling he'd found on Saturday he finished 16th, with Sylvain Guintoli one spot behind him in 17th. The Frenchman has done a good job standing in for the injured Alex Rins (who should be back in Assen and in the post-race Barcelona test) but found it hard to get into a rhythm during the race.
The Satellite riders, apart from Tech 3, struggled slightly more than their factory cousins. For the Marc VDS Honda team, Tito Rabat pushed hard to 15th and finished closer to the front than he had in 2016 but still needs to work on overtaking early in the race, while Jack Miller was putting in a good performance before being caught out by the camber at turn 5. LCR's Cal Crutchlow finished in 11th due to tricky conditions, saying "I survived and I managed to finish". Fellow Brit Scott Redding brought home some points for Pramac despite having "the most difficult race of the season" due to lack of grip, while Danilo Petrucci had a lonely walk up pitlane after ending up in the gravel at turn 5.
Aspar's Alvaro Bautista and Karel Abraham had decent weekends, both fighting the tyre drop-off but finishing 7th and 14th, while the Avintia duo of Hector Barbera and Loris Baz finished 9th and 12th, with Hector thrilled to be competitive again despite a tough race and Loris struggling with a strange clutch feeling at the start before going on to have issues with the front brake which caused pain in his arm.
Did tyres play a part in Barcelona? Of course, they always do, they're the only part of the bike in contact with the track but with a top 6 made up of 3 different manufacturers, a new lap record from Jonas Folger on lap 3 and only two crashes in the race, Michelin probably made the best they could out of a tricky situation. Pierro Taramasso admitted that "if we had foreseen how hot it would be or how the track would've degraded – even since the test – then our allocation might've been different" but as no-one can predict the future with 100% certainty there's only so much you can do with temperatures over 50 degrees on a surface that has no grip left but that still creates high tyre wear.
One thing we've seen in 2017 is that every weekend is different and at least part of that is due to the tyres, they seem to have a "sweet spot" that can be hard to find and with varying compounds from race to race, it's bringing a level of unpredictability to who will get the most of out of them on at any given time. That can be frustrating for riders and fans alike, but it comes from one of Michelin's strengths: their ability to react and adapt to different situations. They changed to a stiffer construction front tyre after Le Mans because the riders voted for it and the Catalan Grand Prix could've looked very different if they hadn't.
From Barcelona, there's a week off (after testing) before MotoGP heads to its most northerly stop of Assen in the Netherlands. It's unlikely to be hot and the grip is decent, although it does have an annoying tendency to rain there. 2016 saw Jack Miller take his first win, 2017 sees a tight championship with Maverick Vinales' lead from Andrea Dovizioso just 7 points. Don't ask me what's going to happen, I have no idea…