You're welcome.
This week has seen the start of the Isle of Man TT fortnight and with it comes some of the most spectacular motorsport that anyone can witness.
Seriously, what the riders and teams achieve during the TT races is nothing short of extraordinary – with top speeds in excess of 205 mph and average lap speeds of 130 + mph – all along public roads and across the mountain course.
We'll be keeping everyone up-to-date with the latest news here on Motofire of course, but there really isn't anything like experiencing it all live.
So here are all of the details as to how you can access the 2017 Isle of Man TT.
(Please note that these times have been revised because of the bad weather experienced during the practice and qualifying sessions).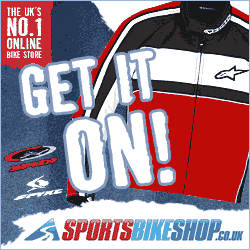 ---
IOM TT 2017 Race Times
SUNDAY 4TH JUNE
14:00 TT Superbike Race (6 laps)
MONDAY 5TH JUNE
10.45 TT Supersport Race 1 (4 laps)
14.15 TT Sidecar Race 1 (3 laps)
TUESDAY 6th JUNE
12.15 TT Superstock (4 laps)
WEDNESDAY 7TH JUNE
10.45 TT Supersport Race 2 (4 laps)
14.15 TT Lightweight Race (4 laps)
16.20 TT Zero Race (1 lap)
FRIDAY 9TH JUNE
10.30 TT Sidecar Race 2 (3 laps)
12.45 Senior TT Race (6 laps)
---
IOM TT 2017 UK TV Schedule
UPDATED
Unfortunately there isn't any live TV or online streaming of the races themselves.
ITV4 in the UK have the rights to the TV coverage and run a nightly show during race week (as well as preview shows during practice days).
The race coverage usually manages to squeeze one of the current days races in on the day of broadcast, but the second race of the day is often carried over for the following night's programme. This means that the TV coverage is often running 24 hours or so behind the actual event.
---
RADIO COVERAGE & LIVE TIMING
The best way to experience the Isle of Man TT – other than actually being on the island – is to listen to it live on the radio whilst watching the official, IOMTT live timing online.
LIVE TIMING
You can access the live timing for free on the IOMTT.com website here – although it will ask you for your email address, so expect a few mails trying to sell you DVDs over the next few weeks!
LIVE RADIO
By far the most up-to-date – and strangely exciting – way to get close to the TT action is by radio. Sure, it feels a little old hat in this modern, digital world, but the local Manx Radio TT coverage is a stalwart of the races charm and they do a fantastic job of keeping the listener informed of all of the latest developments.
(Which are more often than not, weather related).
All photos SimonWillamsPhotography