Martin looks visibly shaken in an interview with British TV.
The crash during Sunday's opening Superbike TT race seems to have had a damaging effect on Guy Martin's confidence leading into the final, Senior TT Superbike race of the year (weather permitting).
In a horrid week for organisers, spectators and riders – where many races have had to be postponed and rearranged because of the inclement weather – course time on any bike in any class has been at a premium.
This has proven doubly so for Guy Martin as the injuries sustained in Sunday's crash have already meant that he had to withdraw from the Supersport race.
Guy crash today on the Superbike. Bit bruised but ok. 120mph on his arse. Bike went into neutral on downshift. pic.twitter.com/7wO3ix8qvp

— Guy Martin Racing (@guymartinracing) 4 June 2017
It's not looking too promising for those fans looking to get a glimpse of Martin out on the roads for the final Superbike race either, as an interview with British TV broadcaster ITV from earlier in the week shows the road racer and TV presenter Guy Martin looking visibly shaken and disturbed when discussing the crash that took place whilst riding the Honda CBR1000RR SP2 'Fireblade'. A bike which John McGuinness was riding when he crashed earlier this year at the NW200 – causing his withdrawal from the Isle of Man TT due to the injuries sustained.
Speaking to TV host Craig Doyle, Martin is visibly not his usual, enthused self when asked about the incident in the opening Superbike race,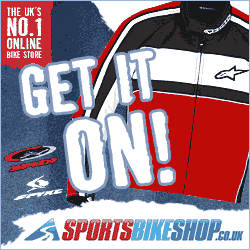 "I'm here. I'm here. Yeah, I hurt my wrist a bit but I'm alright. It was a big 'un. It shook me up a bit."
And when asked about the cause of the crash, it's clear where Martin believes the fault to lie,
"A box full of.. A box full of neutrals on the bike. There was no engine braking. You need the engine braking on the bike to turn the corner."
Doyle then asks Martin if he is angry?
"At who? I'm angry at the bike yeah."
There then follows an awkward exchange where the usual open and honest Martin (often to a fault) visibly wrestles with the correct words needed to address the situation,
"You're in a difficult position…", acknowledges Doyle, perhaps aware that Guy Martin was brought in by Honda as an ambassador alongside McGuinness,
"Yeah I know, Its Honda", replies Martin, "It's Honda but the team are brilliant. No one is at fault. It's not like I went for a gear and it wasn't there. Nothing has come off… Nothing… It's just like a Jonah*".
Doyle looks confused.
"A Jonah!" Martin explains, "It means it's never right. it's always going to be wrong".
Craig Doyle then asks the question that is on everybody's lips, "So that's it for the [Honda CBR1000RR] SP2 you think at this years TT?"
Martin's reply?
"It just needs time to make it better. It needs time. It doesn't like me."
Quite what this means for Honda's entry for the Senior TT race due to take place on Friday, Martin's immediate road racing future AND the future of the 2017 Honda CBR1000RR Fireblade would appear to all be in doubt.
Whilst Guy Martin has been out again on the bike since the crash in a practice session, it's clear from footage and from social media posts that all is not well with man and machine (despite Honda's best attempts to dampen the criticism),
.@guymartinracing is happy with the #Fireblade …. He rode through the incident that caused the red flag, why he was shaking his head.

— HondaRacingCBR (@HondaRacingCBR) 7 June 2017
…but Honda would appear to have a positive outlook if their latest social media postings are anything to go by,
New schedule for tomorrow @iom_tt (Friday 9 June)
Now if we can have some sun please! 👍☀️😎 #iomtt2017 #letsgoracing https://t.co/9FcwnpHzgf

— HondaRacingCBR (@HondaRacingCBR) 8 June 2017

As at the time of writing, the six lap Senior TT is due to take place at 13:15 BST.
But will Guy Martin make an appearance on a bike that's now been involved in serious crashes for both himself and another TT legend?
Update: He didn't.
---
*Nope. Us neither.