How many Ducati Scramblers is too many?
It's time for the annual 'Wheels & Waves' festival in Biarritz, France this week, so anyone who is anybody in the custom motorcycling world – or anyone who just has an interest in hanging out with cool people in a cool environment – is heading down to the South of France for a long weekend of sun, surf and some motorcycles.
Not to be left out of the party, manufacturers have jammed their large feet into the doors of the event as well, so we can expect a few unique customs and hints at future models from several worldwide motorcycling marques over the coming days.
The first out of the gate are Ducati. With a couple of new reveals…
First up is the Ducati Scrambler Mach 2.0, designed with the help of custom perennial Roland Sands.
Featuring new, low-slung handlebars, a 'flat track pro' seat and some trinket cylinder head covers with a black exhaust, the graphics of the new Mach 2.0 version of Ducati's Scrambler are based around the Bell Cross Idol helmet. Which – handily – is available within the Ducati Scrambler apparel collection.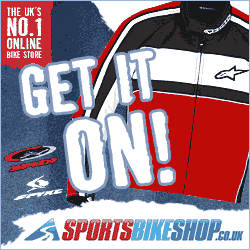 So if you ever wanted a lid to match your new bike, now is your chance.
---
Ducati marketing word alert:
"Inspiration for the name of this latest Scrambler version comes from a bike that made Ducati – and motorcycling – history in the '60s. Back in 1965, in fact, the Mach 1 250 was launched: a classic of its day that mounted the same engine as the Scrambler 250 of the time.
Needless to say, the choice of name stems from its association with speed and movement: 'Mach', in fact, is the unit of measure for supersonic speeds."
---
And then there is a new Full Throttle version…
Ducati say that 'the Full Throttle version has eye-catching new graphics; the sporty model in the Ducati Scrambler range, it features a new, "Shining Black" tank and front mudguard, plus a new side panel with a distinctive black chequerboard pattern on a yellow stripe'.
And that's probably all that you need to know.
Ducati sell a LOT of Scramblers nowadays, so more choice in colours and bits and bobs are always welcome.
So if you were in the market for a Ducati Scrambler, you've just found yourself with a bigger decision to make.