Former World Champion loses control in warm-up.
You know how it is. Someone asks you if you'd like to take control of a safety car during the MotoGP so of course you say 'yes'.
You know that you're a good racer – you once won the world championship with Suzuki in 1982 – so why wouldn't you take up the opportunity to take out BMW's specially prepared M5 safety car in front of over 100,000 expectant fans at the Circuito de Jerez?
The answer to that questions is 'turn 5 at Jerez'…
El safety car de #MotoGP se estrella en Jerez #SpanishGP #motogp pic.twitter.com/gpWH2Rq8Uk

— Motorspot (@Motorspot_mag) May 7, 2017
This is why you always take a deep breath before taking up an offer like that.
Luckily, 62 year-old Uncini is said to be unhurt and suffered just a few bruises and a little bit of dented pride.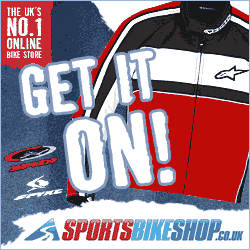 The reports from the BMW garage with regards to the car aren't quite as hopeful.
Ouch.
UPDATE:
As mentioned within the comments section below from his daughter Ludovica, it appears that Franco Uncini – despite earlier reports – was taken to hospital and has suffered 'broken bones'.
We would like to extend our best wishes to Franco and his family, and wish him a speedy recovery.