Road racing favourite McGuinness is 'one lucky boy' according to his wife.
John McGuinness had a crash yesterday during Superbike qualifying for the Superbike class of the North West 200 and, despite news reaching the wires that he was conscious and stable, the exact nature of his injuries has been uncertain.
---
UPDATE 12th May 17:17 BST
In a statement released by Honda it's been confirmed that the operation on John McGuinness' leg was unsuccessful and that he has had an external fixator implemented in order to aid in healing the broken bones. It's also been released that he suffered several broken vertebrae and broken ribs in the accident during NW200 Superbike qualifying.
---
Now, thanks to a tweet from his Honda Racing team, it's been confirmed that McGuinness has indeed broken his right leg and that he underwent surgery last night to secure both his tibia and fibular.
Update: John is currently in theatre having his right tib/fib plated. He's in good spirits. Thank you for all the well wishes ❤️

— HondaRacingCBR (@HondaRacingCBR) May 11, 2017

Updates from either John or his immediate camp have been – quite rightly – quiet, but this morning his wife, Becky, tweeted out a short message that echoed the disappointment that many have felt but also relief and thanks that her husband is still with us and that 'he is one lucky boy'.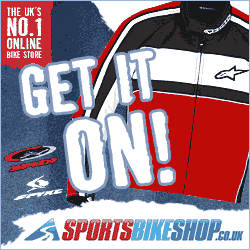 Not how we wanted our day to go like yesterday but glad Iv still got my man with us…he is one lucky boy. 🙏🏻 xxx

— Rebecca McGuinness (@becky1975em) May 12, 2017

Immediately after the crash, Honda withdrew Guy Martin from racing on the CBR1000RR as a precaution, until a thorough investigation into McGuinness' crash could be conducted.