Official statement from Honda and McGuinness confirms that the 'King of the Mountain' will miss the 2017 Isle of Man TT due to his injuries.
After the news of McGuinness' precise injuries broke last week, we were all but certain that John McGuinness would miss riding for Honda at this year's Isle of Man TT. Now, in a statement released by the Honda Racing team, he's confirmed in his own words that he'll not be fit enough to ride at the 2017 TT.
"I'm not going to lie, missing the TT this year is going to hurt"
The statement in full:
---
Honda Racing has been speaking with John McGuinness in hospital following his crash last week and overwhelmed with the love and support received, John wanted to pass on his thanks:
"I really am truly overwhelmed with the amount of support and well wishes that have been flooding in since my accident at the North West 200 last Thursday. Both myself and the wife (Becky) have received so much support and I cannot thank the race fans, industry people, the medical teams and fellow racers enough; all your messages do help pull me through the dark hours.
I'm still at the Royal Victoria Hospital undergoing various treatments for my leg injury; the fixator is still yet to be fitted as they don't want to run the risk of infection, so at the moment it is day-by-day.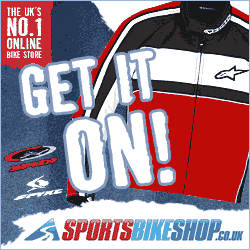 I'm not going to lie, missing the TT this year is going to hurt, but I will be watching and keeping an eye on everything! Good luck to all the lads heading out there; if I am able to head over then of course I will be there, but at the moment everything is day-by-day and I just have to do what I can to recover and get better. It's going to be a long road ahead, but I have a great support network around me, so I have to be patient and take each day as it comes.
---
News as to the exact nature of John McGuinness' crash is yet to be released by Honda Racing, but they withdrew team-mate Guy Martin from both Supersport and Superstock races at the North West 200 last week until they could ascertain the cause and to determine if there was any mechanical failure with the Honda CBR1000RR 'Fireblade'.
Testing will resume for the team within the next few days, with Guy Martin at Castle Combe circuit. There has yet to be any official release from Honda as to any replacement rider, or if Guy Martin will ride alone at the TT in just a couple of week's time.