We hope we're wrong… But we don't think we are.
People still say 'pimped-up' right? Okay, so maybe that's just us but we couldn't think of another way* to describe the what we've just uncovered.
Earlier this week, MV Agusta announced via the sexy, Italian tease medium of a YouTube video a new bike. Sort of.
In fact, what they showed was a lot of metal being worked and a new logo for their RVS (Special Vehicle Department) along with a silhouette of a bike that looked suspiciously like a Dragster RR on knobbly tyres.
But it couldn't just be that, could it?
We're starting to think that it is.
Back at EICMA 2015, MV Agusta were still in bed financially with Mercedes and to celebrate the partnership they produced a limited run of 244 Dragster RR LH 44 motorcycles.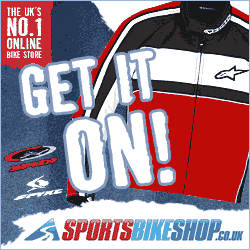 These were basically a factory custom version of the Brutale 800 Dragster in fancy dress; featuring a slightly shortened subframe, wider rear tyre, new graphics, loads of anodized red bits, some carbon fibre and sexy paint. Oh and the same 800cc triple-cylinder-engine as the Brutale.
It was a decent – and quick – way of dressing up a bike in order to make it feel a little bit more desirable. Not a method of bike selling unique to MV Agusta of course, manufacturers do it all the time.
All of which got us thinking about that the RVS.
Now, we still believe that it's going to herald the start of their factory customisation service, similar to that which Harley-Davidson do with their CVO line. This is an idea that makes a lot of sense, keeping in mind MV's recent financial troubles but also their hallowed status within the motorcycle community.
So the first bike out of the RVS stable is going to be pretty special then, right?
Well, we hope so, but we're afraid that the first bike to carry the RVS label is looking likely to be just another 'Lewis Hamilton-esque' special…
The Evidence
Firstly we used our eyes. Look at the screengrabs from the video released by MV and you can clearly see that this bike has an almost identical stance to the Brutale Dragster.
There are some obvious differences however.
Those tyres, naturally, are not what you'd expect on the standard road-going Brutale Dragster, and that light is quite a lot different from the fly-screen/mini-cowling found throughout the range of MV's naked bikes.
And then there is that glint of rear light and that strange, orangey-yellow glow just underneath the seat unit and nestled within the frame…
Here, we've helpfully marked them out for you using what most teenagers would call 'epic photoshoppery'.
Now, here's the science bit.
If you squint a little and flip between the original Brutale Dragster RR and the silhouette from the screengrab, you'll notice a few things…
That rear light set-up is almost identical to the original – only with different coloured lenses – and the front seems to have had nothing more done to it than the addition of a quick, café-racer style 'drop of the bars' and a circular headlamp.
But what about those strange, yellow flashes that seem to light up around the seat and frame area? These look like the most exciting pieces of the design don't they?
We're sorry to disappoint…
…because if you superimpose the original Dragster RR image onto that of the new 'RVS' screengrab, you can see that these are almost certainly nothing more than flashes of a gold frame.
Which leads us to conclude that the first 'Special Vehicle' to come out of the new MV Agusta project is probably going to be a Scrambler/Café-Racer, hybrid-style mash-up of a two year-old machine.
With some trick bits on it.
And probably a gold frame.
Now, this isn't to say that it isn't going to be a good-looking bike (just look at what GT-Moto and Alicia Elfving (the MotoLady) did with their recent build), or that we're not going to look at it and decide that we immediately want one. We're just saying that we're preparing to be underwhelmed. Or at the very most, merely whelmed.
But then, didn't MV Agusta themselves announce this with the words 'the birth of the Hyperbike'? Why yes… Yes they did.
So who knows, maybe we're wrong and this isn't just a Dragster in a fancy golden dress. Lord knows we hope that we are…
We'll find out soon.
---
*Just thought of another, totally should have gone with Dragster in 'drag'. Damnit.