Guy Martin will race alone for Honda this year after McGuinness injury.
23-time Isle of Man TT winner John McGuinness will not be replaced by Honda at this year's TT, meaning that Guy Martin will be the sole Honda racer when the races kick off in earnest later this week.
Whilst Mugen have signed up familiar Honda face Bruce Anstey to be their TT Zero replacement – and to ride alongside Guy Martin – no such deal has been made by the Honda road racing team, which means that the entire weight of success for the 2017 campaign rests on Guy Martin's shoulders.
Have fun tonight guys, be careful and enjoy, wish I was on track with you @iom_tt @HondaRacingCBR

— John McGuinness (@jm130tt) May 27, 2017
Speaking on the official Honda website, Jonny Twelvetrees, the Honda Racing Manager had this to say,
"It's a huge blow to the team not having John with us this year – it really won't be the same without him!
The whole focus is now on Guy, the Fireblade and getting everything ready in the very small amount of time we had between the North West 200 and the TT races. We had a final pre-TT test last week and I'm pleased to report it went extremely well. We have made a lot progress in a very short space of time – it's a real credit to the team and their hard work.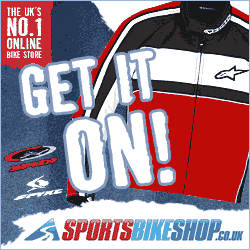 The changes we have made seem to be completely in sync with Guy's riding style, so I think he has improved with the CBR and I hope we can continue with this throughout the TT."
McGuinness injured himself after a severe crash at this years North West 200 event, breaking his leg after falling in the final Superbike qualifying session on his CBR1000RR Fireblade.