Motorcycle sales are down 16% in April according to trade figures.
April is traditionally a strong month for motorcycle sales in the UK. The weather has begun to turn and those riders who prefer a sunnier, drier road start to come out of hibernation. It's also the month when the majority of the new motorcycle models for the year have arrived in dealers and this all tends to lead towards an uplift in bike sales.
This hasn't been the case for UK motorcycle purchases in April 2017 however.
Coming just days after the UK car industry posted a similar 20% drop in sales, the Motorcycle Industry Association figures for the month confirm what many dealers were already dreading; that comparable sales (either month on month, or year on year) are continuing to drop within the United Kingdom.
"Although this is a decrease of almost 2,000 bikes, it is fair to say we cannot continue to put this trend down to the Euro 3 to 4 transition.

More than likely this could be down to the unnerving of the public since the triggering of article 50 and news of the general election.

Consumers are likely to be holding off on high-cost purchases until things become clearer and confidence returns to the market place." – Stephen Latham, Head of the National Motorcycle Dealers Association (NMDA)
There has been some impact from pre-registrations Euro3 emission compliant machines, with scooters suffering a 30.2% decrease in sales being used as an example of this trend.
Taking this into account along with a mammoth 37.4% drop in 51cc – 125cc motorcycles, this has been seen by many as an indication of pre-registered Euro3 bikes still moving their way through the system.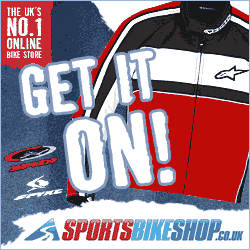 "Whilst higher powered machines of 126-650cc and over, and 1000cc machines suffered a more modest decline in registrations, the mid-size 651-1000cc motorcycles showed a healthy increase of +8.7% – indicating that the traditional riders are still out there and continuing to make purchases despite speculation  about consumer confidence," continued Stephen Latham in his NMDA statement, almost certainly looking for a some sign of positive movement.
The facts are that it's not looking healthy for motorcycle in the UK at present however, with the first four months of 2017 recording a -15.2% drop in sales compared to the same months in 2016.
"It seems unlikely that the market will be as positive as 2016's registrations," he concludes.
Source: The Times