The new BMW R1200 GS xDrive Hybrid is designed to be the perfect bike for all riding conditions.
---
Before we start this article, we need to be very clear about the day on which this news was released by BMW Motorrad. Yes, this was an April 1st story; a day which also included a release from Mini about a John Cooker Works accessory collection and a BMW automobile release about an dDrive dog basket. It was also the same day that Triumph announced a steering wheel accessory for bikers and we broke the news of a Shark 'Lunar Lid'.
But having read the press details sent by BMW Motorrad about fifteen times over the weekend, we're not entirely convinced that this shouldn't actually be a real thing.
Being perfectly blunt, if it is supposed to be a joke, it a) isn't funny, at all. Nor is it even remotely 'april fools' lame enough.
And b) Wunderlich produced a concept bike using almost exactly this technology and showcased it during the EICMA motorcycle show of 2015. And that wasn't a joke. It was real. And awesome.
So with that heavy caveat in mind, read on…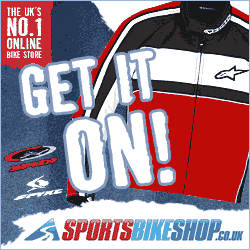 ---
Supposedly derived from BMW i battery technology, the new e-Drive system on the BMW R1200 GS xDrive Hybrid supplies drive to the front wheel and it can be called upon by the rider for extra acceleration. The bulk of the power is still provided by the air/liquid cooled flat twin via shaft drive, but now – at the front – is an additional electric motor that drives the front wheel with an additional 33 KW.
Power management technology ensures that the power is always supplied to the front wheel in the right amount and appropriately depending on the riding situation, which means that the front wheel only receives the amount of power that the traction conditions permit – for example in wet or deep snow conditions.
The rider can use a number of riding modes to customise how the all-wheel drive system operates and adjust the hybrid system's recuperation strategies to suit his needs. Everything can be controlled using an LCD display and a 2WD drive switch is available on the handlebars.
If all of that seems a little familiar, then you probably work for accessory company Wunderlich.
During the Milan EICMA show of 2015, Wunderlich previewed a concept bike – also a BMW R1200 GS that featured near identical technology and was implemented in almost exactly the same way. In fact, in Wunderlich's version, the front-wheel could be used entirely on its own and was able to propel the motorcycle at around 20 kilometres per hour. And because it was an electric motor, it could even be flipped into 'reverse' and used as a 'park assist' for the large, adventure machine.
According to BMW 'The new BMW R 1200 GS xDrive Hybrid will be presented to the public in a suitable location very soon. It will be available from the second half of 2017. BMW Motorrad will announce special tyre combinations and optional equipment features as well as the official sales price at a later date.'
---
Which leads us back to our opening caveat. Details of this bike were released on Saturday, April 1st. So it's almost certainly supposed to be a joke.
But we can't get past the previous Wunderlich example, and the fact that this seems like an excellent use of technology, and a natural evolution for a machine that has proven itself to be the motorcycle of choice for Adventure riders across the globe.
So who's the joke on in this instance? Because this should absolutely be a thing.