Held at Stoneleigh Park in Warwickshire, the Kickback show casts itself as 'an independent, grass-roots motorcycle exhibition dedicated to DIY shed/home builds'.
We spent a day there taking everything in and walking around with our camera. Here are some of our show highlights.
---
We've a bit of a soft spot for a Honda Benly here at MFHQ. This one is a Honda CD200 1980 and is a first time build. A shortened frame, Bultaco 'style' seat and original – but dropped – bars all add up to a clean build. Painted in classic British Leyland almond green and old English white it's a gentle head-turner.
---
This is a 1956 600cc BSA M21, owned and 'lovingly' looked after by Ivan Counsell from Gloucestershire. During the bad weather that blighted the UK in 2007 the bike was totally submerged in water but that hasn't stopped Ivan keeping it going.
It may have something to do with the exhaust made from roadside tube or the copious use of string.
---
A 1982 Honda C90 first arrived to the owner as a box of bits found in the back of a Mk1 Ford Escort. A couple of years later and it's become this ridiculously brilliant bike. Wide supermoto rims sit within widened forks and feature a modified MTB rock shox front suspension unit. Further back sits a modified, Left-hand-side exhaust and a custom seat unit made from leftover material from a Bentley Continental.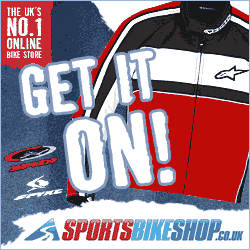 ---
---
A British bike show without a Norton? Heresy. So don't panic, because this is a 1960 Slimline Norton 500cc ES2.
Tuned with bigger valves, a BSA 60cc Scramble Piston and what the builder refers to as 'some strange looking cams found in a box', it's a 'joy to ride' apparently. It's certainly a treat to look at.
---
Built by Chris Leek this 1998 Honda NX650 Dominator looks as purposeful a machine as you'll ever see. 19″ wheels front and back, a tank taken from an old CB125 and Triumph T120 handlebars go a long way to showcasing what remains a [cleaned but] standard engine. Those exhaust cones aren't though…
---
Sixty-two miles per hour! That's how fast this monowheel from Tom Anable has been recorded as travelling. We'll just let that sink in for a moment…
---
Sat next to the previous Norton is a 1955 750cc Triton Dominator. 
Looking straight out of a ton-up-boy catalogue, this pre-unit 6T engine is as pretty a café racer as you're ever likely to see.