We know next to nothing about this event, but does it matter? Because just look at this photo.
So here's what we know about the Abu Dhabi Desert Challenge. It's the opening round of the FIM Cross-Countries Rally Championship and errm… It's in Abu Dhabi.
Oh and we know that Sam Sunderland will be riding his KTM in it – and probably doing amazingly well.
But honestly that's about it.
The press release that just arrived in our inboxes is the kind of thing we do a huge disservice to by not writing about on Motofire because we don't really like to write much about a sport discipline that we don't know much about.
But how could we pass over publishing images like these?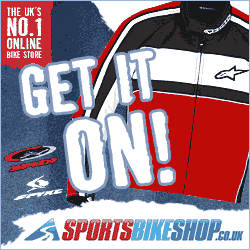 Seriously, just look at how majestic that scenery looks. And how incredible the Husqvarna with rider looks to be dealing with the terrain.
For what it's worth, here is what we've learned from the rest of the press release,
Rockstar Energy Husqvarna Factory Racing Team's Pablo Quintanilla again advanced to second overall after stage three of the five-stage Abu Dhabi Desert Challenge, the opening round of the FIM Cross-Countries Rally Championship. The Chilean rider now goes into the penultimate stage from a position of strength as he opens his bid to defend his 2016 world title.
Factory teammate Pela Renet, winner of stage two was fifth in the stage and is currently sixth overall.
This race is largely about tactics and Quintanilla was able to start from a position of strength on Tuesday. He won back valuable time, where Renet, as stage two winner had to open the track and was pre-programmed to sacrifice some time.
Quintanilla will be second off the start in the penultimate stage and trails overall leader Sam Sunderland by just over three minutes. Renet is currently just under 12 minutes off the overall lead time but he has a good chance of recovering some of it in Wednesday's penultimate stage.
---
A quick look at the current results and standings show that it's a fight for first place between the KTM rider (Sunderland) and the Husqvarna racer (Quintanilla).
For more information and to follow the event, we reckon you're best off checking out the official site.
Results
Stage 3 – AL ALN Special: 288.73 kms
1. Sam Sunderland (GBR), KTM 3:55.23 h
2. Pablo Quintanilla (CHI), Husqvarna + 6:01.0 min
3. Matthias Walkner (AT), + 9:02
4. Paolo Gonçalves (POR), Honda + 12:03
5. Pela Renet (FRA), Husqvarna + 17:43
Overall Standings (after three of five stages)
1. Sunderland 11:41.20 h
2. Quintanilla + 3:06.7 min
3. Walkner + 5:14
4. Gonçalves + 7:47
5. Renet + 11:57