Can you media train Artificial Intelligence?
We've thought for a long time that Jorge Lorenzo may in fact be non-human. All the evidence points in that direction; look at his ridiculous consistency when it comes to lap times?
And then there is the man's static, almost blank response to interview questions.
Oh sure, you can find some outrageous things that he's said recently online, but you'll never actually find recorded evidence of any of these conversations taking place. On camera he's a well-oiled, media machine (maybe literally).
Just take this pre-conference video released by MotoGP on their Facebook page tonight as an example:
[fbvideo link="https://www.facebook.com/MotoGP/videos/10155482864890769/" width="688″ height="370″ onlyvideo="1″]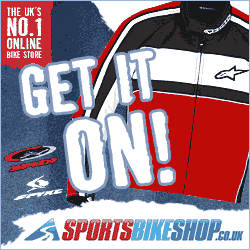 Dorna, finally allowing their social media team the tiniest bit of leash had requested funny, quirky questions from their worldwide audience through their various channels, and Jorge had been asked the (admittedly not all that insightful) following on Instagram,
"If you could describe the Ducati as an animal, what animal would it be and why?"
And his answer, "A Tiger, a Lion. Something like that."
Which is literally the most boring answer to that question that anyone could have responded with. It killed the laughter that was permeating throughout the conference dead within seconds of his reply and even the interviewer – a man whose job it is to keep the conversation flowing – can't think of anything else to say other than, 'Okay, thank you'.
Just a quick 30 second pause for thought and they possibilites should have been rolling off of the tongue, like they did for the Facebook audience when faced with his joyless response:
Or if he did actually want to keep his new masters happy, how about something thoughtful and 'politically' aware, like this?
Brian Taylor" A 

Golden Eagle. Big, fast, terrifying, dangerous, difficult to handle, ill tempered, but can REALLY move when motivated."
In fact, we were so concerned with the tone of Lorenzo's reply when we heard it that we visited Mitsuku the internet's most celebrated Chatbot to see how it/she would respond, and it replied with a nearly identically boring – yet somehow still an even more astute – comment than that of the new Ducati man.
Could it be that the three-times MotoGP winner is actually nothing more than a bundle of wires and silicone all wrapped up in a fleshy meat bag?
And can it really be a coincidence that Yamaha get rid of him in the same year that they announce their Motobot?
JORGE LORENZO IS A ROBOT. FOR REAL. CONFIRMED.
(But even a sentient robot looks like it's got its work cut out with the Ducati GP17 this year?)