The worldwide launch of the brand-new-for-2017 Triumph Street Triple 765cc is taking place on Monday 13th of February…
And we'll be watching the social media channels and newswires to see just what those lucky journalists think of the replacement for the ten year old 675cc Street Triple.
Three versions of the new Street Triple will be made available – all with differing levels of specification and finish. The 'S' will be the entry level machine, followed by the middle-of-the-range (and probably most popular) 'R' and then topped-off by the super, track-focused 'RS'.
If that sounds like the kind of bike you've been hoping for then keep checking back throughout the day for all of the latest updates. After all, why scour the web and social channels when you can just come to Motofire and get it all from one place…
---
Latest Updates:
Monday 13th February:
19:48
Can't think of a better way to end today's little round-up. Now, onto the Ducati SuperSport.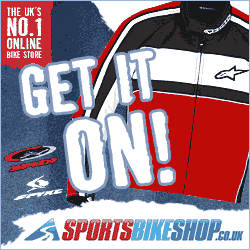 @wearemotofire you're probably short of action for your review, so here's a wheelie pic 🙈 pic.twitter.com/qQf4EN8udM

— Alastair Fagan (@F4G4N) February 13, 2017
17:23
If you were waiting for thirty-seven minute review of wind-noise and rambling under a lid – BUT with some instant impressions of the new Street Triple RS – then you're in luck.
15:08
It may *just* be the new favourite midweight naked, but even at that competitive price and with all of that fancy kit, it still can't beat the rain.
Street Triple RS can do track too. Or at least it did, before it started raining heavily at Catalunya. More later. pic.twitter.com/g0QKmqUJdc

— Bennetts (@bennetts_bike) February 13, 2017
14:47
The prices for the Street Triple range are in… And they are looking VERY competitive.
So the new @UKTriumph Street Triple is coming in at £8,000 for the S, £8,900 for the R, and £9,900 for the RS! pic.twitter.com/PWWktUL2LE

— Fast Bikes Magazine (@fastbikesmag) February 13, 2017
That's £9,900 for the RS! Which is a LOT of bike for the money.
13:15
What's that? You're wondering what the Street Triple RS sounds like on track? Here's your answer…
[fbvideo link="https://www.facebook.com/FastBikesMagazine/videos/1363657153657012/" width="688″ height="366″ onlyvideo="1″]
11:17
The first written review is in (ish). As would appear to be the way these days, insurance company Bennetts have appended a generic overview of the bikes with a quick sentence from their rider for the launch event.
It's in the final paragraph if you want to read it in full, but the take away quotes from the first ride of the Triumph Street Triple RS are probably these,
"Triumph have taken the Street Triple and made it better."
And,
"we're not really pushing it, but you can tell straight away that there's more top end on this bike. In fact, it makes be wonder why you'd want the big Speed Triple at all."
08:57
Riders have been up and out already… And it's not taken long to form some snap opinions…
Street Triple RS launch: new motor spins-up quicker, more powerful and torquey, but the big surprise is how light controls and steering are. pic.twitter.com/BU1WNKmsTG

— MCN Sport (@MCNSport) February 13, 2017
So far, so very, very good. Top-shelf RS model feels like a supersports bike. Engine feels incredible the higher you rev. Track action later pic.twitter.com/u3us2cosIC

— Alastair Fagan (@F4G4N) February 13, 2017
08:01
Today. Triumph Street Triple RS 😍 #triumph #spain pic.twitter.com/FA4hMt5xwM

— Carl Stevens (@CarlStevens17) February 13, 2017
Sunday 12th February:
22:25
Oh, how the other half live eh? Normal round olives just aren't good enough!
19:44
We're here on the @UKTriumph Street Triple launch in 🇪🇸 – Road ride and sessions at @Circuitcat_eng coming up tomorrow ✊️💨 #triumph pic.twitter.com/brzWtQOEh4

— Fast Bikes Magazine (@fastbikesmag) February 12, 2017
18:23
Foggy is ready and waiting:
Ready and waiting to go for a play 😈 #triumph #streettriple pic.twitter.com/l3yYoe0AcB

— FOGGY MBE (@carlfogarty) February 12, 2017
15:11
Expect a lot of this sort of thing until people actually land in Catalunya for the test:
Heading off on Triumph Street Triple 765 launch today. Continuing the run, from first Striple launch in 2007 to R ('08) to revised R ('13). pic.twitter.com/w9Rz0WdkrO

— Martin Fitz-Gibbons (@Mufga) February 12, 2017
Off to Barcelona with @UKTriumph and @BritishGQ to ride a rather special bike – Triumph's Street Triple 765. pic.twitter.com/U6Pd4WlKDx

— rich taylor (@rtt) February 12, 2017
En route to BCN for the launch of this British beauty. Road tomorrow morning, Catalunya circuit in the afternoon. ✊🏼🇬🇧 pic.twitter.com/yO7WxMLFlg

— 44teeth (@fortyfourteeth) February 12, 2017
And here's the official Triumph overview of the new, fancy and full-colour dashboard:
[fbvideo link="https://www.facebook.com/triumphaus/videos/1188456161203720/" width="688″ height="344″ onlyvideo="1″]
---
Gallery:
Specifications:
The Street Triple S:
Standard Equipment
New 765cc engine
113 PS at 11,250 RPM
73 NM peak torque at 9,100rpm
Showa suspension front and rear, with preload adjustable RSU
ABS and Switchable traction control
All-new 'gullwing' swingarm
Road and Rain riding modes
LED position light bulb headlights
Updated LCD instrument pack including an on-board computer with: fuel gauge, odometer, trip meter and journey distance
All-new bodywork
Sporty twin-seat design
Black powder coated main frame, subframe and swingarm
The Street Triple R:
Additional to Street Triple S
118 PS at 12,000 RPM
77 NM peak torque at 9,400rpm
Brembo M4.32 monobloc front brake calipers with radial master cylinder
Assist and slip clutch
Fully adjustable Showa separate function fork front suspension
Fully adjustable Showa RSU
Switchable ABS and traction control
5" full-colour TFT instrument pack
4 Riding modes Sport, Road, Rain and Rider
High-spec onboard computer, including all the features of the 'S' model plus: journey time, average speed, average fuel consumption, instantaneous fuel consumption, range to empty, two trips and ambient temperature
New switchcubes with 5-way joystick control
DRL headlights
Self cancelling indicators
Sporty body-coloured flyscreen with integrated air intake from Speed Triple
Premium seat stitching and vinyl
Red rear subframe, wheel pinstripes and detailing
Low ride height (LRH) model available
The Street Triple RS:
Additional to Street Triple R
123 PS at 11,700 RPM
77 NM peak torque at 10,800rpm
Brembo M50 monobloc front brake calipers
Brembo MCS span and ratio-adjustable lever, radial master cylinder
Fully adjustable Showa big piston fork front suspension
Öhlins fully-adjustable piggyback reservoir RSU Quickshifter
Quickshifter
5 Riding modes Sport, Road, Rain, Rider and Track
Matt silver painted aluminium rear subframe
Body-coloured bellypan and pillion seat cowl (pillion seat also supplied)
Lower chain guard