Can Ducati's 'comfortable' sports tourer live up to its promise?
Before we start, full disclosure: This is the bike that Steve is most excited about from either the EICMA or INTERMOT shows, so he'll be paying more attention to this than most.
The launch is happening in Spain – on both the road and track – and we'll finally get to see if the new, 937cc V-Twin from Bologna delivers on its promise. It's already been voted 'most beautiful bike' at the Milan motorcycle show, but now we'll see if it rides as well as it looks.
At £11,495 for the 'regular' model and £12,795 for the SuperSport 'S', it's already making the case to be set apart into a class all of its own – with perhaps only Suzuki's GSX-S1000F or Honda's latest VFR's for any kind of company.
We'll be checking out (and updating you on) everybody's social media and websites during the day – Valentine's day no less – to see if Steve's promise of undying love for the new SuperSport stays true…
Even if it has lost its twin-tone looks that we first saw.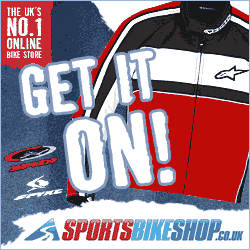 ---
Latest Updates:
Tuesday 14th February
17:12
Michael Neeves has sent out another update over on MCN after the road ride this afternoon,
"I was expecting it to be a comfortable sports bike, as Ducati themselves say, but the reality is it's actually very sporty… "The most impressive thing about it, in true Ducati style, is how well it handles. It's a very stable, swift, sweet handling sportsbike"
15:02
'Good all-round sports bike' – we'll take that.
SuperSport on the road: @marcpotter says it's an easy to ride good all-round sports bike, with an edge of practicality. Still wet though! pic.twitter.com/eLP5tWYejU

— Bennetts (@bennetts_bike) February 14, 2017
13:13
MCN have just posted a video of onboard action from a drying track. It gives a great impression of the rider view and – perhaps more interestingly – the sound of the new SuperSport S.
11:37
And now for the initial results from the MCN jury,
"The riding position feels really natural – you're sat in the bike – and it really feels like it will work well on the road".
(This is good news for Steve, who likes to be able to rest his considerable belly on the tank).
"There's a broad, flat spread of power which makes riding easy, but on a track as big as this it feels a little breathless and doesn't highlight the strengths of the engine. It should fit nicely on the road."
(This is slightly disappointing but perhaps to be expected, especially considering that yesterday the majority of these same riders were on track with the very-focused Triumph Street Triple RS).
"Overall it's a very easy bike to ride, and anyone should be able to enjoy it straight away."
(Steve likes easy bikes. This makes him happy).
11:21
Prices for the SuperSport S have been released, and it's looking that it'll require a good, couple of grand premium over the standard model at £12,295 in red, £12,495 in white.
The regular SuperSport is set to retail at £10,995.
10:56
As they were with the Triumph Street Triple 765cc launch yesterday, Insurance company Bennetts are first off the blocks with a quick, paragraph of first thoughts after an hour or so of wet riding at the Monteblanco circuit this morning,
"The bike is incredibly agile and easy to handle and what the wet conditions really demonstrate are the brakes, which were very powerful in hauling us down from an indicated 225 kph at the end of the straight. Suspension is from Ohlins, and it feels very plush. Ducati have set the bike up slightly softer for the wet conditions, so it feels more like you would ride on the road. It feels like a Ducati sport bike for the road, one that you can ride every day."
There's always a slight bit of concern when you learn of intervention on behalf of the company personnel on hand – who sound like they've done their best to alter and edit the set-up specifically for the rain and the track – but that's probably to be expected. What is pleasing to hear is that it would seem to have ticked the 'everyday sportsbike' box nicely.
We'll find out later if that translates to the roads.
10:52
Here's the Ducati SuperSport, at full twist and with the optional, Akrapovic exhausts,
The #ducatisupersport at full throttle with @myAkrapovic slip on exhausts. pic.twitter.com/kgfSD95UHr

— Motorcycle News (@MCNnews) February 14, 2017
09:31
It looks to be raining fairly constantly at the launch of the SuperSport in Spain,
Its the launch of the new 113bhp @DucatiUK SuperSport in Spain. It's raining. Hard. It's meant to be a bike for everyday riders…More soon pic.twitter.com/lMGZmz6Egq

— Bennetts (@bennetts_bike) February 14, 2017
Much to the disappointment of the journalists on track (and Steve who was hoping to get some quick feedback and footage of the bike in motion so that he could prove to Ian that he was wrong).
It will dry up it will dry up it will dry up ☔️ #ducatisupersport pic.twitter.com/4MMgWIN8Wd

— Visordown (@visordown) February 14, 2017

08:31
A nice comparison of two of the different 'pack' upgrades that we learned about last night,
Left: standard #ducatisupersport with panniers, Akrapovic slip ons and smoked screen.

Right: Supersport S with underseat Akrapovic system pic.twitter.com/Z9MCYozxfV

— Motorcycle News (@MCNnews) February 14, 2017
Monday 13th
20:59 GMT
Lots of accessories as you would expect from Ducati. These additional exhausts from Akrapovic look particularly good…
Of course, no @DucatiMotor would be complete without tasty official exhausts from @myAkrapovic 😍 #ducatisupersport pic.twitter.com/vAygiW7k6J

— Motorcycle News (@MCNnews) February 13, 2017
…but there is also an interesting set of 'packs' from Ducati. We've already seen the touring pack (panniers, heated grips, smoked, taller screen) but it's looking like there are going to be 'Urban' and 'Sports' ones too.
The #ducatisupersport Urban pack: Anti-theft alarm system, magnetic tank bag and foot pegs with rubber inserts. (3/4) pic.twitter.com/KgqCE0ODKK

— Motorcycle News (@MCNnews) February 13, 2017
The Sports pack has a carbon mudguard, a tankpad, some upgraded, LED rear indicators, racier brake levers and fancy, aluminium reservoir caps.
Not really sporty, more 'blingy' we'd say, but still nice to have options eh?
18:55
The press briefing is underway now. Looks like Ducati paid the money for a big, shiny, screen. Which means that lots of nice and useful information is coming down the wires (is that still a saying?).
Useful information like the fact that it will come with 44 litres of luggage capacity – assuming you buy the full pannier set (which won't be out for a few months until after the bike hits the streets).
Ducati are calling the Supersport a sport-road bike, blending sport bike performance with versatility.

— Motorcycle News (@MCNnews) February 13, 2017
Ducati SuperSport has a soft pannier option, and heated grips… pic.twitter.com/Ehi2T1NqqE

— Simon Hargreaves (@SimonHbikes) February 13, 2017
Time to learn all about this beast… #ducati #supersport pic.twitter.com/AvhzDudXuT

— Chris Pritchard (@chris_pritch) February 13, 2017

17:07
The privileged journalists and writers are just starting to arrive for the launch. There'll most probably be a press briefing tonight with the riding taking place tomorrow.
We're in Spain for the launch of the new @DucatiUK Supersport, riding all day tomorrow. pic.twitter.com/puVL8QQgtF

— Motorcycle News (@MCNnews) February 13, 2017
Expect lots of tweets and updates of people stood in front of static bikes and possible shots of menus and/or beer.
this hotel has some brilliant ornaments in it… pic.twitter.com/luyQMyYDmO

— Visordown (@visordown) February 13, 2017
---
 Walkround Video
---
Galleries:
Show Photographs
Studio Shots
---
Specifications:
Ducati SuperSport
Colours:
Two-tone fairing, Ducati Red and Saturn Grey, with Ducati Red frame and Matt Black wheels
Main equipment:
937 cm³ Testastretta 11° engine with 113 hp and 96.7 Nm at 6,500 rpm
Euro 4 emissions o 2-1-2 exhaust system with lower pre-silencer and lateral silencer with stacked pipes
Trellis frame with load-bearing engine
Height-adjustable 2-position Plexiglas screen with 50 mm of travel
3-spoke wheels with Y-shaped spokes
Pirelli Diablo Rosso III tyres, 120/70 ZR17 front and 180/55 ZR17 rear
Fully adjustable 41 mm Marzocchi forks
Sachs shock with adjustable spring pre-load and rebound damping
Brembo front braking system with two 320 mm discs and M4.32 calipers
Brembo PR18/19 front radial brake pump o 3 Riding Modes (Sport, Touring, Urban)
Ducati Safety Pack (ABS Bosch + Ducati Traction Control)
Ready for Ducati Quick Shift (up/down)
Headlight with LED Daytime Running Lights (DRL)
Full-LCD instrumentation
Under-seat waterproof USB port
Ready to incorporate Ducati Multimedia System (DMS)
---
Ducati SuperSport S
Colours:
Ducati Red fairing with Ducati Red frame and Matt Black wheels
Star White Silk fairing with Ducati Red frame and Glossy Red wheels
Main equipment
937 cm³ Testastretta 11° engine with 113 hp and 96.7 Nm at 6,500 rpm
Euro 4 emissions o 2-1-2 exhaust system with lower pre-silencer and lateral silencer with stacked pipes
Trellis frame with load-bearing engine
Height-adjustable 2-position Plexiglas screen with 50 mm of travel
3-spoke wheels with Y-shaped spokes
Pirelli Diablo Rosso III tyres, 120/70 ZR17 front and 180/55 ZR17 rear
Fully adjustable 48 mm Öhlins TiN-treated fork (specific "S" version content)
Fully adjustable Öhlins shock absorber (specific "S" version content)
Brembo front braking system with two 320 mm discs and M4.32 calipers
Brembo PR18/19 front radial brake pump o 3 Riding Modes (Sport, Touring, Urban)
Ducati Safety Pack (ABS Bosch + Ducati Traction Control)
Ducati Quick Shift up/down (specific "S" version content)
Headlight with LED Daytime Running Lights (DRL)
Full-LCD instrumentation o Under-seat waterproof USB port
Colour-coordinated rear seat cover (specific "S" version content)
Ready for Ducati Multimedia System (DMS)