If we live in a world where everything is regurgitated, how do we know what's even real anymore?
Take this with a huge pinch of salt, but we've just seen a report by ITV News that says that Guy Martin is all set to return to the Isle of Man TT in 2017. And he'll be doing it on a Honda.
For those not familiar with the way of 'the news' in Britain, ITV is traditionally only second to BBC with regards to reliability with regards to their sources, so it's only to be expected that we would have received tip-offs in the double figures with regards to the story and its apparent legitimacy.
The only problem? ITV Granada (the broadcast region for the channel that covers the North West – including the Isle of Man) is reporting as their source the Drive Tribe social network. And this means that the story could have literally been written by anyone; because although the site is supposedly run by ex-Top Gear heads Richard Hammond, James May and Jeremy Clarkson, you can bet that they're not sub-editing the hundreds of posts being made to the site every day.
The 'tribe' responsible for the original post on the Drive Tribe website is 'Bike Throttle' who make no reference to their source within their original post, just that they 'can confirm' the news and that they've 'been told Guy has finally agreed to a deal to ride the all-new Fireblade for this year's TT'.
Remember that it's only a few weeks since we heard an equally dubious rumour about the TT movie, Matt Damon and Liam Neeson?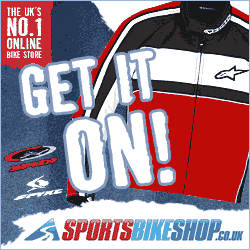 We reached out to Honda themselves and Gary Inman, friend of Guy Martin and the journalist/writer responsible for the majority of Mr Martin's verbal output in printed form for comment. But we're about 98% convinced that this is entirely made-up news.
The remaining 2%?
1% is comprised of 'this is a world in which Trump and Brexit have happened', and the other 1% is 'this is Guy Martin we're talking about so literally anything is possible!'
Source: ITV News (ish) via Drive Tribe (ish) via Bike Throttle.
Pic: Channel 4