'Race version' of the recently launched V4 will be ridden by Josh Brookes and Davo Johnson.
In what was probably the world's most unfortunate timing, there was some other TT related news or other on the day that Norton announced their TT assault for 2017, and that took a little of the chrome-shined glare off of the announcement. But now that the dust has settled, if anything, the news that Guy Martin on a Honda will be riding against a gleaming SS V4 makes us even more excited for this coming May and June.
The new Norton SG6 is touted by the Donington-based manufacturer as a 'race-developed' version of the Norton V4 SS road bike that was revealed at the British Motorcycle Live show in Birmingham in November last year.
We got a little bit excited at the chrome-finished beauty from the moment that the Union Flag that had been covering it had been unfurled; and we couldn't have been the only ones, as all two-hundred of the SS variants were sold within hours of the announcement.
One of the main points of interest with the road bike launch of course was the power plant. Norton have been racing an Aprilia V4 for the past few seasons at the Isle of Man and many had believed that the bike on display would simply be an 'Aprilia in shiny clothing'. This was not the case however and the road V4 SS will be delivered to its owners with a full, Norton (and Ricardo) designed V4 engine.
This isn't going to entirely be the case with the Isle of Man race machine though, as the SG6 will once again feature the race-proven V4 Aprilia CRT, with Norton Boss Stuart Garner stating that "With first deliveries of V4 SS bikes not expected until the second half of 2017 it's too early in the engine's development to race the new Norton V4 engine given the dangers and endurance involved in competitive racing at the TT."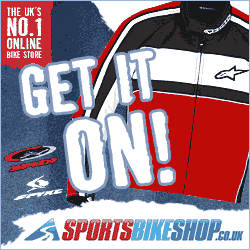 Geometry will be almost identical however, as will the frame stiffness, chassis and weight distribution.
With two Australians helming the machines for 2017, there's no shortage of bravado and expectation, "This year I know if everything goes smoothly with no problems we can battle for the podium," said Davo Johnson, "I'm ready to be up there and I feel the bike will be too. But like I said, everything must be perfect as everyone is really flying these days. We had a small bike problem in the Senior TT last year which caused my concentration malfunction (laughs…)! But before that we were up dicing for a top 5 position and my ideal lap was 131.5mph, so I'm confident for good things this year."
Josh Brookes was a little bit more reserved with his predictions but no less excited, "My first ever race at the TT was in the Superbike and I got a top ten, so let's hope we are better than that at least, but realistically if we finish the races without a problem, and I'm in the 132mph club by the end of the fortnight then we'll be celebrating."