Some of the fastest riders on the planet – and some motorcycling journalists – are in Portimao, Portugal.
It's the world's first test of the much anticipated Honda CBR1000RR Fireblade, people have been waiting for this bike for years and we're following their social feeds all weekend so you don't have to.
Saturday 21st January:
16:02pm
'I'm properly struggling for words. It's so impressive' https://t.co/qGNhqDMb4g

— David Rogers (@David_R_Rogers) January 21, 2017

13:49pm
Here are MCN's thoughts on the Fireblade SP, Adam Child – who's riding for them – seems intrigued by the new 'on-the-fly' settings that are introduced with this model,
[fbvideo link="https://www.facebook.com/MotorcycleNews/videos/10154564618878855/" width="688" height="411" onlyvideo="1"]
12:34pm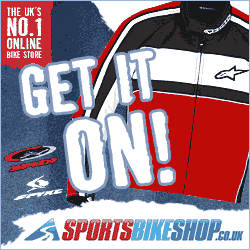 SP flyby!
And here's @HondaRacingBSB's @danlinfoot giving the #Fireblade SP the full beans down the @AIAPortimao home straight … #TotalControl pic.twitter.com/l0iUCDE6LR

— Honda UK Motorcycles (@HondaUKBikes) January 21, 2017

12:28pm
More first impressions, this time from Adam Child from the British newspaper MCN,
"It feels like a Blade, but a smaller Blade. It's not intimidating at all, the last bike I rode here was a Panigale and I've done a BMW here too and they were really 'woaaaah', but this is quite easy and manageable, so far anyway!"
"It's a lot smaller than the old one, both in how it feels and the actual dimensions. You could get really tucked in on the old one whereas this one feels more like the size of a 600. Good throttle delivery, good power – the delivery is really linear."
"We're on standard suspension and standard tyres so it's going to be great for punters out of the crate, but now we're upping the pace we're getting to the limits of the stock suspension and stock tyres, so it'll be interesting to see how we get on with the slicks and electronic suspension with the SP later on. "
So far so good from the two publications we've seen so far.
We have to be honest, with all this talk of the bike feeling compact and '600cc like' we're starting to feel a little excited.
12:00pm
The first impression reviews are starting to come in and it's all sounding positive. Here are the thoughts of the man from Bike insurer and website, Bennetts,
"As soon as you sling your leg over the bike the first thing you notice is that it feels more compact, the bars are closer and the bikes dimensions are certainly more 600-like."
"The power delivery is Honda smooth and predictable with a good mid range and higher rev peak. The power increase makes the bike feel closer to race performance – even though I've only ridden the base model so far."
"As I left pit lane I was surprised at just how quick the bikes drops on its side in and out of turns."
It's no surprise of course that Honda have revised and improved on the previous model, but as with all these tests, it's wonderfully reassuring to know that everything seems to be correct and there aren't any glaring or out-of-place changes.
You can read more of his first thoughts over on their website.
11:55am
Here's what BSB racer Jason Ohalloran thinks of the Fireblade after his first session…
Here's what @ohalloran22 thinks of the new @HondaRacingBSB Fireblade after a few sessions on the standard bike… pic.twitter.com/S9C1hzHfqI

— MCN Sport (@MCNSport) January 21, 2017

11:03am
Adam Child offers a few extra details on the machine and the plans for the weekend.
[fbvid[fbvideo link="https://www.facebook.com/MotorcycleNews/videos/10154564220303855/" width="688" height="411" onlyvideo="1"]p> 
10:11am
Fireblade aficionado @JennyTinmouth can't wait to ride the new blade pic.twitter.com/6LVXhCfHOg

— David Rogers (@David_R_Rogers) January 21, 2017
09:48am
Anyone like the sound of this?
First laps! It certainly sounds different to the outgoing model pic.twitter.com/uFwvcQVbGU

— Motorcycle News (@MCNnews) January 21, 2017
Here! Have some photos of people stood near bikes.
We've got @alandowds riding the new @HondaUKBikes Fireblade at @CircuitPortimao today and he means business pic.twitter.com/2YQ8rwKjf9

— Visordown (@visordown) January 21, 2017
New leathers ✅
New bike ✅
Ready to roll @HondaUKBikes Fireblade style ✅#CBR1000RR pic.twitter.com/3wOwsghG1s

— Bennetts (@bennetts_bike) January 21, 2017

08:30am
Last night (Friday) was the press briefing for the new Honda CBR1000RR (which we'll from here on out just call the 'Fireblade' because numbers confuse us).
As usual the riders and writers were shown the bike up close, discussed details and specifications and had chance for a few comments/photos (mainly photos).
If you're going to launch a race bike, this is the team you'd probably choose! Nice work Honda UK!
#OnlyHonda What a press launch line-up! pic.twitter.com/oR9q6Uz30V

— David Rogers (@David_R_Rogers) January 20, 2017

Here's MCN's Adam Child sat on the bike.
And here's some actual information – in the form of photographs – from the launch.

If you squint a bit you can see that the new Fireblade has 3 automatic and 3 manual damping modes (Track, Winding and Street), with adjustable fine-tuning surrounding firmness, Nose Dive, Turning and Pitching characteristics.
There are also 5 riding modes, 3 fixed combinations and 2 that are user/rider definable.
Basically, there are a LOT of options – as you would expect on a machine of this calibre.
And here's another generic, bike photo:
---
Honda CBR1000RR WALKAROUND VIDEO
---
Honda CBR1000RR GALLERY
---
Honda CBR1000RR Specifications
Engine
| | |
| --- | --- |
| Bore × Stroke (mm) | 76 x 55 |
| Carburation | PGM-DSFI |
| Engine Displacement (cc) | 999cc |
| Engine Type (cm³) | Liquid-cooled 4-stroke 16-valve DOHC Inline-4 |
| Max. Power Output | 141kW/13,000rpm |
| Max. Torque | 114Nm/11,000rpm |
| Oil Capacity (Litres) | 3.4 |
| Starter | Electric |
Wheels
| | |
| --- | --- |
| Suspension Front | Telescopic inverted fork with an inner tube diameter of 43 mm, and a Big Piston Front Fork with preload, compression and rebound adjustment, 120mm stroke |
| Suspension Rear | Unit Pro-Link with gas-charged HMAS damper featuring 10-step preload and stepless compression and rebound damping adjustment, 138.2mm stroke. Rear Balance Free Rear Cushion with preload, compression and rebound adjustment, 62mm stroke. |
| Tyres Front | 120/70ZR17 58W |
| Tyre Size Rear | 190/50ZR17 73W |
| Wheels Front | 17 inch |
| Wheels Rear | 17 inch |
Dimensions and Weights
| | |
| --- | --- |
| Battery Capacity (VAh) | 12V-7AH(Li-ion) |
| Caster Angle | 23°20' |
| Dimensions (L×W×H) (mm) | 2,065mm x 720mm x 1125mm |
| Frame type | Diamond; aluminium composite twin spar |
| Fuel Tank Capacity (Litres) | 16L |
| Ground Clearance (mm) | 130mm |
| Kerb Weight (kg) | 196kg |
| Seat Height (mm) | 832mm |
| Trail (mm) | 96mm |
| Wheelbase (mm) | 1405mm |
Transmission
| | |
| --- | --- |
| Clutch | Wet, multiplate with diaphragm spring with assist slipper |
| Final Drive | Chain |
| Gearbox | 6-speed |
Instruments and Electrics