You don't need to be a regular reader to know that scramblers are hot.
In their haste to plaster 'scrambler' on everything with a high mount exhaust and less than slick rubber, the manufacturers have diluted its meaning.
The Scrambler Ducati team has been as guilty as the rest of them. Nothing from the Land of Joy was designed with actual backcountry in mind. But unlike the competition from BMW, Triumph and Yamaha, the Italians are now attempting to make amends.
The new Desert Sled is Ducati's peace offering to us purists.
According to Ducati, the Desert Sled is the bike they've wanted to create since the inception of the Scrambler sub-brand. They claim it's the natural evolution of the Urban Enduro, and draws clear inspiration from the 1969 Baja-winning 350 Desmo, piloted by Doug Douglas… In fact, after riding it, I would argue that this is the bike that should have started it all.
It's not often that a bike exceeds my expectations, but this one definitely did.
The changes [made by Ducati over the 'original' Scrambler] create a motorcycle that embraces the off-road capability that turned 'desert sled' and 'scrambler' into motorcycling household terms. Fit and finish is in keeping with Ducati's usual standards, and I'm happy to report that nothing has been watered down for the Starbucks parking lot.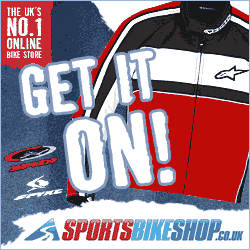 It's not often that a bike exceeds my expectations, but this one definitely did. I'd sussed out that it could hold its own in the dirt in the hands of a pro, but I didn't think it'd fare so well for me.
Once out of the soft stuff, the Sled hauls ass with the best of them. It's comfortable and responsive in a standing position, and made short work of the two-track trails running around Fort Bravo.
If scrambling is your thing—and your taste is for modern classics—we've found your bike. The Desert Sled is the scrambliest scrambler money can buy.
---
For all the full report, more details, hi-res photos and technical information, read the original article on Bike-Exif; Excerpts republished here by permission.