Honda Motor Europe sign both McGuinness and Martin for their 2017 Road Racing assault at the North West 200 and the Isle of Man TT.
After reports and rumours spread around the internet like wildfire yesterday, we can now confirm that Honda have done what would seem to be the dream deal have brought together fan favourites Guy Martin and John McGuinness for the two biggest road racing events of the 2017 season.
Martin will be making his return to racing after a year away from the sport and will be hoping that some of the 'King of the Mountain' McGuinness' success will run his way for what will be an opportunity for him to add to his 15 TT podiums and that all-elusive TT win.
John McGuinness already has already bagged 23 TT winners trophies of course and will be hoping to add a couple more to his tally after a year in which his lap record around the mountain course was broken.
[fbvideo link="https://www.facebook.com/hondaproracing/videos/1205550699481149/" width="688″ height="422″ onlyvideo="1″]
When asked about the announcement, Guy was candid about the decision that he had to make,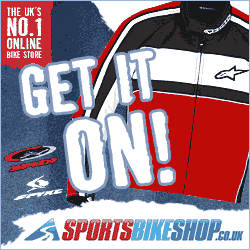 "Neil [Tuxworth, Honda team boss] has been talking to me for a while about joining the team but I had a lot of thinking to do before I committed and said yes.
I spent a lot of time on my push bike to and from work, thinking about what to do. I didn't want to grow old regretting not giving the Honda a go and the more time passes since making the decision, the more time I've thought it is the right decision.
Honda is a great team and the Fireblade has always been a weapon on the roads so, with the new bike, I'm keen to give it a go. We've got a busy testing schedule coming up and I've put some other stuff off to make time."
And what about taking up residence alongside McGuinness?
"John is the man. I've got massive respect for him and I'm looking forward to racing on the Fireblade against him".
Both men will be riding the new Honda CBR1000RR Fireblade SP2 at the meetings – a bike which will be making its debut – alongside what we can only imagine to be a smiling Guy Martin, a determined John McGuinness and two trucks worth of merchandise – at the North West 200 in May of this year.
"He's a TV star, I'm just a brickie!" – John McGuinness
Full marks to the team at Honda Racing for pulling off what is a sensational coup. The merchandise sales alone will be worth the price of whatever contracts have been determined, but having pulled Guy Martin out of 'semi-retirement' and to join him up with the perennial McGuinness is a master stroke.
We simply couldn't believe the rumours when we began to hear them yesterday, but in a world were Donald Trump can be president of the United States, we should have known better.
Now, we simply cannot wait until the Isle of Man later this year.