There are three focus points of a rider when hitting the track hard; both feet and their backsides!
In this video released by the Pramac Ducati MotoGP team, we get to see their riders, Danilo Petrucci and Scott Redding taking a lap of (what we think is Jerez) on the new Ducati Desmosedici GP 2017.
Don't be fooled by the odd-looking shift pattern – this is a race bike with a reversed shift don't forget – but instead marvel at how much movement and control is taken up by the body.
Despite these bikes being big, heavy machines, it's not just the arms and upper body of the rider that does the heavy lifting, it's the lower body and the movement of the centre of gravity that really gets the bike moving.
We recommend watching it a few times. Once just to take in the whole experience, once to see just how the shifts are made and then again to focus on Redding's use of the rear brake.
Quite amazing really.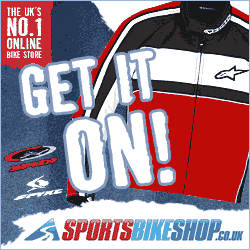 Is the new season starting yet?
[fbvideo link="https://www.facebook.com/PramacRacing/videos/10154941139408304/" width="688" height="433" onlyvideo="1"]