Oddly, showing off the latest clothing doesn't seem to be a priority for the Italian clothing manufacturer.
It's late in the afternoon on the first, full day of the EICMA motorcycle show in Milan and the C.E.O. of Dainese, Cristiano Silei, is just sixty minutes away from the company's presentation to the world's motorcycle media. Like every other firm that has spent tens of thousands of Euros on a brightly lit and elegantly constructed stand in one of the fourteen halls of the Fiera Milano conference centre, Dainese have new product to announce.
Standing up in front of a sea of overworked and visibly haggard journalists who are having to respond to the modern day requirements of having to be seen Facebook Live broadcast every, single, event should mean that instead of meeting us, Silei should be readying his game face.
But if he is nervous for the announcement he doesn't show it. He even remains unflustered whilst Ian fiddles with the microphone and attempts to get just a little too intimate with Cristiano by asking if he can put his hand down his shirt?
'Just tell us a quick story so that we can set the levels…', says Ian in his most seductive, sound-man's voice.
Silei responds immediately, "My best story is the Dainese mission. How's that?"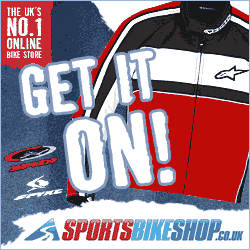 It's clear that we're dealing with a consummate professional here and instantly my heart sinks. There's nothing worse that transcribing an interview full of corporate speak and managed soundbites.
But then he sees the new business cards that we've had printed specially for the trade-show and have proudly laid out before him, and instantly the mood changes from one of starched correctness to a show of one upmanship reminiscent of that scene from American Psycho,
"Ooh, Prestige!", exclaims the Italian CEO as he shuffles the triple-layered, heavy stock card between his thumb and forefingers. Then, as quick as a flash he drops two of his waxed and embossed Dainese logo'd, gloss white beauties onto the table in front of us – one for each – and instantly we all know that he's the real winner here.
We smile, nod in admiration and just like that, the air is cleared.
"MotoGP is where the suit meets the tarmac"
"In all seriousness", he continues now that Ian is happy that the microphone is working, "the story for me is very simple. I knew Dainese from my days working at Ducati because we'd been partners for a long time, since 1998 I think."
"All of my gear was Dainese and in fact there is a picture in my office now of me on a Ducati bike wearing gear with a huge Dainese logo on it! So even before I joined here I knew Dainese well, and I know the product. I was a fan".
"But what I found when I arrived was so much more than I thought it was… The more I dug into the brands of Dainese and AGV the more I realised that not only do we have two phenomenal and powerful brands that attract passion but they have a huge history.
AGV next year is 70 years old and Dainese is 45 next year too!"
Before we continue, a little backstory. Cristiano Silei joined Dainese from Ducati in 2015 where he had worked for twenty years and had held various prestigious roles, such as Director of Corporate Strategy and Product Development, CEO of Ducati North America and Vice President of Sales and Marketing.
Just months earlier the President of the company, Lino Dainese – the man from whom the company gained its name – sold his majority shareholding to an outside company by the name of Investcorp. This new company were now the owners of both Dainese and AGV.
So whilst it's true to say that he moved over into a heritage company, Silei also joined at a time of both unrivalled excitement but also the usual unsettling influence of new ownership.
"For me the real excitement was not just the two phenomenal brands, but there was this huge capacity to research and develop technology within the company, and I found a dedicated and passionate group of people who loved their work. I found much more than I thought I would find."
Nowhere is that development and research more keenly shown than within the arena of MotoGP.
And yes, Dainese and AGV do have some of the world's greatest riders of all time sat underneath their logos and brands, but for Silei it's the data and development that really gets him excited,
"Sure, racing for us is important to communicate the brand", he replies kindly as I clumsily regurgitate the clichéd 'win on Sunday, sell on Monday' mantra to him, "but it's also an actual, physical proof point of the quality of the technology in our products. This is literally where the rubber meets the road and where the suit meets the tarmac. Yes we have logos on riders, but what's more important is that you can see the difference our product is making and you can see our gear working on a MotoGP weekend for yourself."
Naturally this is all bringing the conversation neatly into a discussion about airbags. It's the technology that Dainese have led the world in from the very beginning and along with their compatriots – and fiercest competitor – Alpinestars it's fast becoming the latest weapon in the motorcycle safety/clothing 'arms race'.
In fact, just weeks before we sit down to talk, an edict from MotoGP is announced that states that from the 2018 season, all riders – in all of the classes – will be required to wear an airbag system of some type whilst they are racing. Does Silei see this as an important advance in his mission to bring safety to the masses?
He smiles as he answers, "All Dainese riders have been wearing them for several years. Our riders would never ride without an airbag – and every one of our riders will crash, several times a season. Just look at Valentino Rossi's interview after his latest crash (he's referring to a particularly nasty crash in Aragon that saw Rossi's airbag absorb the shock of a particularly bad landing onto his left shoulder)… He knows what he needs for safety."
How do you even begin developing a system that can cope with the intensity of something like a MotoGP crash?
"It's really very daunting when you first begin. Now, we know what the airbag does and we know when it needs to deploy, and perhaps just as importantly, we are able to tell the airbag when it doesn't need to deploy."
"We've had sixteen years worth of research with the algorithms and in the design of the product in general, and what a lot of people don't know is that when it does deploy – especially in certain specific areas – it actually makes the suit work better in protecting everything else around it as well. By putting the suit in full tension, it provides maximum safety."
"You tell me the name of any rider that would say they would happily ride without a helmet just because they found it more comfortable?"
So after sixteen years of working, developing and testing, do we know for sure that these kind of system's work?
I mention that there has been some research lately that has suggested that we don't know enough about the additional dangers and potential injuries that impacting onto another surface whilst wearing an inflated suit can cause.
"This is very important", Silei states firmly, "we have monitored all of the crashes of those riders who've been wearing the systems, and we've monitored many riders who haven't. There is a staggering difference in the results. We know that this technology works."
But isn't it awkward to wear though? The moment the MotoGP rule for airbag wear was announced, Lorenzo instantly complained that he – personally – finds it uncomfortable to ride with.
"Look, the system isn't uncomfortable. It just isn't," responds Silei, "It's true that some people are looking at the airbag still in a funny way because it's relatively new technology. But look at it like this… You tell me the name of any rider that would say they would happily ride without a helmet because they found it more comfortable?"
Sixteen years is a long time to develop a safety system if there were doubts as to its efficacy.
"Everybody told Lino Dainese that he was crazy."
In actual fact, it's been a little bit longer than that. Before sitting down with Cristiano we brushed up a little on our motorcycle airbag history and came across a sketch of Lino Dainese's which he allegedly scribbled down over dinner one evening,
"Haha, yes!", smiles Silei, "All of this started as a napkin sketch from 1995. Dainese was scuba-diving one day and was thinking whilst under the water about how protected he felt and how buoyant the air made him feel. So he thought, 'Can we use air to protect more people?' So he came out and sketched the idea immediately. That feeling of being embraced by the air… That's how he first came about the idea."
"And you know what? Everybody told him he was crazy."
So it's hardly surprising that a technology so fundamentally radical as fitting an explosive bag of air to your chest has taken some time to catch on.
"Yes, but it's also because a traditional airbag protects the car from the person. It doesn't actually protect the person from the car. A wearable airbag works the other way around and has to protect a person from obstacles. So when this all started the actual technology wasn't there."
"Plus normal airbags… They inflate with heat! But we can't do that of course, so ours had to be a cold inflation. Plus ordinarily an airbag inflates from the centre and pushes air outwards, but we needed something to inflate equally. So it took all of those sixteen years since there to get to where we are now."
The first actual test of a Dainese airbag system in a race was in 2007. So in real terms that's nine years of testing data with at least twelve years of design and development before even that stage could begin. And like with most technological advancements these days, the key to everything is in the data that's collected,
"It's the algorithm that's really important. We do a similar system for skiing but the data it needs to work from is completely different. If you've rapidly come skiing down a hill at speed over 300 metres, how does the airbag know what's going on? How does it know? It's an entirely different set of data than from bikes."
"Even with all of our previous, development experience, it's taken us another seven years to figure out the right algorithm for skiing. We need a different set of data for each application that we have in mind."
I suggest to him that, these timeframes are a really long time to spend developing a product that might not even be accepted by the public at large?
Silei places both of his hands onto the table inf front of him, time to get serious, "These things take time and money to develop. But we need to get them right. We're finally at a position where we can really start working to bring the costs down, so now we can address the larger public."
Just the evening before, Ian and I had sat at the launch of Ducati's new range of motorcycles, and one of the major reveals within this glitzy parade of Italian flair was the new Ducati Multistrada 1200S D|Air. Does this mean that we're on the cusp of airbag technology filtering down to products that the majority of us can afford?
"We sell 1.8 million garments per year, so we've got a way to come before it's in all of our products".
Silei can see the look of disappointment on my face and that he's beginning to lose the room. I love a 'prestige' product as much as the next man, but the days of me blagging expensive gear under the often, empty promise that I'll 'review it for the paper' are long gone. If I'm going to begin wrapping myself up in all of this new, sexy, safety gear it's going to have to be at my own expense… You know… Like a normal customer.
"But we've got the pro-armour too", he continues quickly, reading the room with expert eyes, "It's our new family of protectors and ushers in a whole new system for the new jackets. Airbags are only one part of the equation. A lot of damage can be prevented by armour alone; as long as it's good quality protection."
The new Pro-Armour is now less than forty minutes away from being unveiled to the potential customers at the show and Silei is rightfully keen to extol the virtues of Dainese's new protection system,
"There isn't a level 3 certificate for armour at the moment but we've designed our new product to exceed the demands of level 2. In fact, it exceeds it by quite a lot."
Cristiano is clearly passionate about his product.
His enthusiasm – and frustration at the lack of mass-market adoption for safety wear – shows as he sits forward in his chair once more,
"Everything we do is learned through research. Take for example our back protectors… We know that back protectors dramatically reduce and prevent spinal injuries but people still aren't using them consistently."
"So what can we do to make sure that more and more people adopt the system? Our thinking is that we have to research new technologies and find ways to be more user friendly. We need to be lighter, more ergonomic, more comfortable. In the summer people don't like to wear them because they sweat a lot, but they're putting their safety at risk, so we needed to find a way around these kind of problems."
I mention the tiny slither of foam that came with the latest jacket that I bought. It was listed at the shop I purchased it from as having a 'back protector' included, but I've seen greater damage protection from an Amazon delivery box.
"Yes…", he nods, "There's a high degree of misinformation also. Our mission is to advocate safety and to provide better information."
"We're not just here to show you our latest line of jackets, we're here to show you that we have researched technologies and solutions to problems and then we apply these to products. We have four research centres. This is what we do. And we do it well!"
So what next? With rumours of self-balancing bikes and autonomous vehicles being developed, how does the C.E.O. of one of the world's largest motorcycle clothing manufacturers – and research companies – feel about the latest BMW Vision 100 concept motorcycle? The which showed a female rider wearing nothing but what appeared to be stretch fabric and some sort of VR goggles for safety…
"Oh, I would rather not comment on that specific thing because I have very strong opinions on advocating safety. These projects just don't seem to support that. What we do is research. It's good to have visions for the future, but we do research.
And we own and develop the most advanced technology in the market. It's a very exciting time."