Starting from pole for the 4th time this season, Jorge Lorenzo was determined to end 2016, and his time with Yamaha, in the best possible way… he wanted to win!
After a trademark perfect start, he went unchallenged for the entire 30 laps, setting two new race lap records and taking his 4th win of the year.
The man starting from second on the grid was the new MotoGP World Champion, Marc Marquez, but after a disastrous start due to a clutch spin issue, he dropped back as low as 7th, leaving him battling with his team-mate, Dani Pedrosa, who unfortunately crashed on lap 7. Someone who got a fantastic start, however, was Ducati's Andrea Iannone who stormed up to second thanks to the sheer speed of the Ducati, with Maverick Vinales slipping into third.
Iannone initially was able to stick with Lorenzo but by the second lap, the 2015 Champion had already pulled a gap of 0.6 as he did what everyone had feared and simply cleared off at the front.
His now-former Yamaha team-mate Valentino Rossi had quite a battle on his hands in fourth. The first move came on lap 5 at turn 4, as he slipped past Maverick Vinales, with Marc Marquez following him through not long after. For Rossi, his attention then turned to his compatriot Iannone in what turned out to be a fantastic battle between the two Italians. The pair swapped positions fighting first for second, then later in the race for third, with Iannone's amazing top speed allowing him to simply blast past the Yamaha on the front straight.
With 20 laps still remaining Rossi was eventually able to get himself some breathing space in front of Iannone, partly thanks to Marquez providing a buffer as he had also temporarily passed the Italian for third. For a few laps, the race settled down slightly, matching the calmness of Lorenzo out front, but on lap 17 Rossi and Iannone were back in battle, while further back Crutchlow had crashed out at the last corner.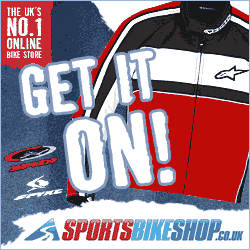 Iannone eventually got the better of Rossi, although not permanently, which pushed the Yamaha rider back into the clutches of Marc Marquez who's harder front tyre was coming into its own and providing him with an advantage as the performance of the rubber around him started to drop.
On lap 19 Marquez slipped up the inside of Rossi at turn 2, before passing Iannone on the next lap, only for the Ducati to blast straight back past him. Marquez was not easily dissuaded (obviously) and took the second place back from the Italian in a multi-faceted move at turns 2 and 3. Now he had Iannone firmly behind him, Marquez was able to start closing in on Lorenzo, and he almost made it, dropping the gap to under 2 seconds by the flag, but the Spaniard admitted he'd have needed another 2 or 3 laps to catch and pass the Yamaha.
With 7 laps left, Rossi again tried to get the better of Iannone, but was unable to match the speed of the Ducati rider and bike, before a last ditch attempt on the second to last lap with the two Italians leaning on each other at turn 11 as they battled for position, with Iannone ultimately coming out on top. While he was fighting with Rossi however, his team-mate and Sepang winner Andrea Dovizioso was desperately trying to hold off the Espargaro brothers further back in the top 10.
On paper, and indeed on asphalt, it seems like a fairly straightforward win for Jorge Lorenzo in Valencia as he had a very quiet 30 laps. But he did have issues to overcome as his front tyre started to grain, although he said he was actually having more issues with his rear when Marquez was closing him in.
Nonetheless, the Spaniard was thrilled to wrap up his 9 years with Yamaha in the perfect way, saying that now he'd achieved his objective he could finally relax and tonight (after a party of course) have a good sleep. It was an emotional day for the triple MotoGP champion as he says goodbye to all but 1 member of his team at the same time that Yamaha won the 2016 Team Championship, but he won't reflect on that for too long because on Tuesday he gets his first taste of the Ducati.
For Marc Marquez, he ultimately suffered from a bad start and wasn't able to catch Lorenzo soon enough, but he was able to celebrate an incredible title-winning year in style with his team, as they brought out all the celebrations that had originally been planned for Australia as they were also celebrating Honda's 22nd Constructors Championship.
Third-place finisher Andrea Iannone had the hardest race of them all, as the Italian is still not fit after fracturing his vertebrae back in Misano and missing 4 races. He was in a lot of pain and was really struggling to get the energy to continue; speaking after the race he admitted that when he saw his pitboard saying 16 laps left he didn't think he'd make it to the chequered flag. But he battled through the pain, assisted by the speed of his Desmo, to take his fourth podium of the season as he now says goodbye to Ducati and moves to Suzuki.
For the new kids on the grid, KTM, it wasn't the ideal debut with Mika Kallio having to retire from the race on lap 20 due to an electronic issue that caused the ECU to lose the signal of the speed sensor. But despite that and grip issues earlier in the weekend, I think they can be satisfied with their performance. They'll have gathered vital data and race experience, and are now ready for further improvements in the test next week.
2016 is now over. MotoGP has seen 9 different winners but was ultimately dominated by Marc Marquez as he learnt a new mentality that in turn brought consistency. The weather and tyres played starring roles over the 18 race drama, but the riders themselves have to be the true stars of the show. While this season is finished, the good news is that 2017 starts on Tuesday with a 2-day test at the Valencia circuit.