The first of our weekly shows is a BIG'UN!
Motofire quietly turned one year old during the Milan motorcycle show this year, so to celebrate we're starting something new.
Welcome to MF Misfire – a weekly show about whatever has happened in motorcycling over the previous week. We'll be discussing all of the latest news, rumour and gossip as well as just stuff that we found on the internet that we thought was cool.
It's kind of like Motofire.com but in a longer-form with more meandering and a lot less focus. How could you not want that?
This first episode is ridiculously long – it clocks in at over an hour – but it's perfect for just washing over you during that lazy lunch break you were looking at taking today.
Today we discuss all of the new bikes launched during the show season at EICMA in Milan, INTERMOT in Cologne and Motorcycle Live in Birmingham.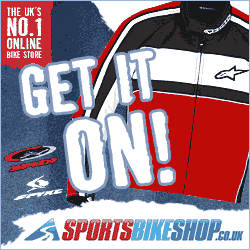 In the future, our episodes will be a more manageable length – somewhere around 20 minutes or so – but for now, enjoy our first Misfire and thanks for joining us over the past year at Motofire.
And don't forget to subscribe, like, comment and all of that other fancy stuff over on our YouTube channel.