Colour us disappointed.
It's our own fault, we get excited. Often, too excited. When we heard that EBR Motorcycles had been saved from extinction late last year, and then we saw the promise and tease of new models for 2018 and even 2017, we had dreamy visions of a resurgence of the Buell brand.
So it's fair to say that we're a little underwhelmed to learn that the promise of a 'Quick, Dark & Low' motorcycle for 2017 isn't the sleek, sporty cruiser that we had imagined, but rather just an EBR1190SX that has been dropped by an inch, given higher bars, lower pegs and painted all black.
To be fair to EBR, they do have stock to sell and with the tweaks to the gearing that they've made on this new model, it should be far more suited to street use, but a little bit of creative styling wouldn't have gone amiss.
Neither would some news on the all-new models or the cheaper bike platform that they have in development.
Still, anyone attempting to revive a brand with this much history of difficulty behind it should be commended for even giving it a go… So, we're not quite done with EBR yet!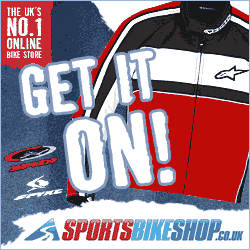 H/T: Asphalt & Rubber