Serious about safety? Dainese's new Mugello R D-air® might just be the racing suit for you.
Dainese have been working on the air-bag suit concept for some time and have been helped by Rossi who has – both intentionally and accidentally – flung himself at the tarmac at high speeds and took notes in the process.
The result is what Dainese say "represents state-of-the-art safety technology and introduces over 25 new features and several pioneering innovations leading to five new patents." Sounds impressive. 
Highlights include the extension of the D-air® airbag coverage area from the neck, shoulders and collarbones, to the lower sides of the rib cage; a redesigned and seamless-integrated LED interface, as well as a patented Intelligent Emergency Lighting System directly triggered by a sophisticated D-air® algorithm (not really sure what that is, but it sounds good); enhanced comfort and protection with the application of an adaptive knee construction and innovative constructive solutions, such as high-performance pre-curved engineered textiles and tri-axial elastics; and re-engineered elbow construction with an optimised slider shape and a quick release system.
The suit will be available through Dainese's custom works program, in two colour options from April 2017 and will start from £3,399.95. Nope, that's not a misprint.
If you've a bit of change left, Dainese have teamed up AGV to offer what they say is a state-of-the-art, head-to-toe safety system for motorcycle racing. Basically, add another £1,011.95 and you'll also get the AGV Pitsa GP R helmet thrown in.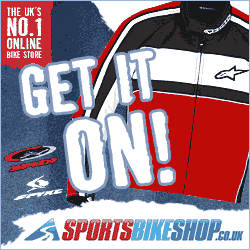 An evolution of the groundbreaking Pista GP helmet, it offers and increased field of vision with the introduction of a Race 3 Max Pinlock®; a Class 1 Optic visor with 100% Max Vision Pinlock® (120) and a new-patented Visor Lock System (VLS).
Aerodynamic performance has been improved with a new wind-tunnel-tested Biplano rear spoiler; there's a new-patented interior structure and an implemented Integrated Ventilation System (IVS); and the Pista GP R is the first helmet to include a hydration system, featuring internal channels and a drinking valve placed inside the chin area.