New road race movie to be made by 'Bleed for this' director.
We already have a Barry Sheene biopic in the works, coming from a team of British producers, and it's looking like the next couple of years are going to be a bumper time for motorcycle fans at the movie theatre.
At the Toronto film festival this week, writer and director of upcoming boxing biopic 'Bleed for This' – Ben Younger – announced that his next big project is going to be a film based on the Isle of Man TT. Younger, who has cult hits 'Boiler Room' and 'Prime' already to his name has some experience with motorcycles; he crashed one that Ben Affleck gave to him as a gift according to a report in the Hollywood Reporter.
Actually, that's doing him a disservice. Because Younger apparently loves his bikes, loves to race on track and has owned several decent race bikes according to our Google searches. In fact, the photo for this article was borrowed from a blog post on Roland Sand's website in which his Isle of Man project was already being hinted at.
All of which bodes well for a successful transition of the world's greatest road race to the silver screen.
Called simply 'Isle of Man', the plot is said to centre around an American motorcycle racer who comes out of retirement to participate in the races around the gruelling, 37.733 mile long course.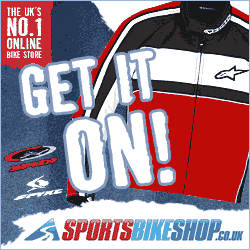 The cast has yet to be announced, but it's believed that production will begin in March of 2017.
"Isle of Man' is a muscular action film wrapped around a great character journey that exemplifies the Bold brand," said producer at Bold Films, Michael Walters.
"I'm thrilled to be partnering with Bold Films on what is an absolute passion project," Younger added in a statement. "The TT is the last, great, dangerous race on earth and I am excited by the idea of bringing this new world to a general audience. 262 racers have lost their lives on this Island. I want to do their stories justice."
'Bleed for This' is a biographical boxing movie based about the life of former world champion boxer Vinny Paz.
Starring BAFTA award winner Miles Teller in the title role, it also features the [not inconsiderable] talents of Aaron Eckhart and Ciaran Hinds in the supporting cast. And there's another actor that many motorcycling drama fans will be aware of; Katey Sagal.
Sagal was – of course – Gemma Morrow, the mother of Jax Teller in Sons of Anarchy and is also the wife of SOA creator Kurt Sutter.
H/T: The Wrap.