Just two weeks after the first British Premier Class win in 35 years, MotoGP is heading to the middle of England for the British Grand Prix at Silverstone.
The Silverstone circuit is quite a complicated one. It's the longest track on the calendar at 5.9km and has 18 corners, with only Austin having more. The corners themselves pose a challenge in terms of setup; there are fast and flowing turns with quick changes of direction, combined with slower corners and hard-braking zones.
Bike setup for Silverstone is all about compromise. Rear traction is key as the circuit doesn't have great grip and thanks to F1 it also has more than a few bumps too. This aspect will see a number of teams going for a shorter and flatter bike, for example, Ducati think that they will use a shorter rear swingarm. But you can't concentrate too much on the back of the bike because the front also has the potential to cause a few problems this weekend. Getting enough weight on the front, without taking anything away from the rear, could be the biggest challenge some face, with the first part of the track having a downhill camber and of course, those hard-braking zones already mentioned, both meaning wings are likely to be out in force.
Once you've got the front and rear setup secured, you have to make sure that you're not taking anything away from your acceleration; which is so important at Silverstone, as it's one of the fastest tracks on the calendar. This could prove a problem for Honda, who as we know, have suffered in terms of acceleration this season.
Tyres will play a part, as always, this weekend. The track is classed as medium abrasiveness, despite not giving off great levels of grip. This means that the riders and teams will have to add in tyre durability to the rest of their concerns ahead of the race on Sunday. Although of course, that will also depend on the conditions…
Mention Silverstone to almost anyone inside MotoGP and they're certain to talk about the weather at least once. The track is exposed, not surprising as it's a former airfield, and that means it gets all the weather. The British weather forecast is reliable in that it's usually wrong, but at the moment it looks as though most of the weekend should be dry, although there's always the chance of a shower or two!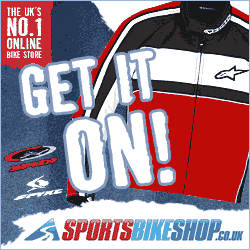 After the tyre issues last time out at Brno, Michelin have brought three compounds for the front wets, with the riders being able to choose from extra-soft, soft and medium if it does rain. Wet rears will be available in soft and hard. But if the forecast is right and it stays dry, the front slicks will be in soft, medium and hard, while rear slicks will be based on the tyres used successfully in the dry at Brno, with compounds designed for Silverstone and available in soft and medium. These rear slicks will be asymmetric, with a harder right shoulder (due to more right turns) and a softer left to allow that side to warmup quicker. Intermediates are also available if conditions are mixed.
For Brno winner Cal Crutchlow, the weather probably won't bother him that much as he prepares to race at home as a Grand Prix winner for the first time. But despite the confidence boost to him, Silverstone hasn't always been a happy hunting ground. Crutchlow won the WSBK double in 2010, but since then he's broken his collarbone in 2011 qualifying leading him to miss the race, in 2012 he hurt his ankle in qualifying and started from the back of the grid (finishing 6th), in 2013 he had three crashes over the weekend, in 2014 he raced with an already injured shoulder from the previous race and last year he recorded his fifth DNF of the season after his then teammate Jack Miller took him out.
There was bad news for another British rider ahead of this weekend as Bradley Smith was ruled out due to injury. He's been replaced by Alex Lowes, who said "it's genuinely a dream come true.. I'm sure that I'll have to pinch myself on Sunday when I'm sitting on the grid"
For championship leader Marc Marquez, Silverstone is a track that the Spaniard enjoys. He's won there twice, although only once in MotoGP, and has five pole positions out of six attempts across all classes. Last year he crashed out of second place on lap 13 in a rain-hit race that was eventually won by Valentino Rossi. Marc has a healthy lead in the championship standings, with 53 points separating him from Rossi and Jorge Lorenzo a further eight points behind his Yamaha teammate. Despite the "buffer" Marquez knows it's not even close to being over yet, so it will be interesting to see if the race brings a sensible point scoring finish or a more "win it or bin it" approach.
Valentino Rossi also knows the hunt for the title isn't finished and as he prepares to make his 250th MotoGP start (he's the first to reach the landmark and has only missed four races since the class was introduced) he will be hoping to continue last year's form and return to the top step for the first time since Barcelona in June.
On the other side of the Yamaha garage, Jorge Lorenzo is happy to be back at Silverstone, which he says is one of his favourite tracks and one he really enjoys racing. Lorenzo makes his 150th MotoGP start on Sunday, so the Yamaha team will be hoping to celebrate with at least one of their riders. In terms of the championship, the disastrous race in Brno meant he moved back to third but he's staying pragmatic saying "we need to think race by race and just try to get the best results".
But if anyone needs to stay positive it's Dani Pedrosa. Dani hasn't been on the podium since Barcelona, one of only two top-three finishes this year. He expects Silverstone to be tricky in terms of setup due to the changes of direction, grip and weather but did find some potential ideas during the post-race test in Brno that will hopefully play their part this weekend. Pedrosa is battling problems from multiple directions at the moment; from tyres that don't give him the grip he needs (after construction changes earlier this year), to electronics that aren't helping the way they should and a bike that won't accelerate when and where he wants it too.
But despite these issues, he hasn't forgotten how to ride and don't listen to anyone who tells you it's a mental issue for the Spaniard. Speaking ahead of Silverstone he showed that he's staying practical but he definitely hasn't given up, "my main goal at the moment is to regain some confidence and feeling", and once he's done that, however, long that might take.. we're almost certain to see Pedrosa back at the front.
So this weekend setup will vital, tyres will remain under the spotlight and there'll be plenty of people watching the weather forecast. Honda will be hoping acceleration issues don't hold them back, Ducati will be focusing on the form of their bike, Suzuki hope that their chassis will suit the fast corners as well as they think it will, Aprilia are bringing chassis upgrades and a modified gearbox featuring neutral lock, and Yamaha will be desperate to get back to winning ways.
Sunday's race schedule is slightly altered this weekend, to work around Formula 1 (booo!) and the MotoGP race will start at 15:30 local time so clear your schedules and get ready for a brilliant weekend at the British Grand Prix.