With track temperature rising, so were the expectations ahead of MotoGP qualifying in Misano.
Michele Pirro and Hector Barbera had both made it through to Q2 after topping the first qualifying session, but all eyes were on the Yamaha duo of Valentino Rossi and Jorge Lorenzo, Honda's Marc Marquez and the Ducati of Andrea Dovizioso.
Tyre strategy was somewhat mixed at the start of the session, with Rossi and Lorenzo choosing medium front & rear, while others, such as Vinales and Marquez chose the hard front tyre instead.
It was Marc Marquez that hit the track first and he set the first benchmark of the session with 1'32.783 before Jorge Lorenzo took over at the top of the timesheets moments later with a 1'32.310. The World Champion hadn't finished, though, he improved to 1'32.076 a lap later, while Marquez remained in second with Pirro in third.
At the halfway point of the session, everyone entered the pits, ready to slot in some new rubber and head out for the final time attack. By this point, the only rider not to set a time was Hector Barbera who was conserving tyres after passing through Q1 first.
With the minutes quickly ticking away, Rossi moved up to second behind Lorenzo, before his lap time was cancelled when he exceeded track limits at turn 16, moving the Italian back to 8th.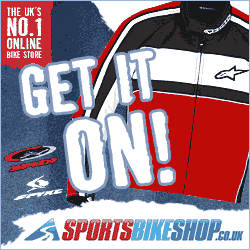 But while Rossi was having his lap cancelled, Lorenzo was storming around the San Marino circuit, pushing at the very limit. After qualifying, he admitted that he decided to ride more aggressively at this point, with the bike really moving underneath him… something he looked quite pleased about!
Lorenzo improved his top time to an astonishing 1'31.868, the fastest ever lap around Misano, putting him well out of reach of the other riders.
There was some controversy around this lap after qualifying, as camera replays show him marginally exceeding track limits at turn six. He also passed through a section with waved yellow flags (due to a crash for Aleix Espargaro) but as he didn't overtake anyone, he doesn't appear to have broken any rules there. His lap time still stands currently, but even if it is retrospectively cancelled he will still be on pole with a record time.
With Lorenzo secure in pole position, Rossi moved back up to second, with Silverstone winner Maverick Vinales completing the front row in third.
In Parc Ferme, Jorge Lorenzo said that he had been "completely delighted" when he crossed the finish line and saw his time and that it was "maybe the best lap of all my life". A big statement from the five-time World Champion, but with his previous form at Misano he has placed himself in the perfect position to give his all in the fight for victory tomorrow. He also now holds the record for the most pole positions in the modern era with 64, one more than both Rossi and Marquez.
For second-placed Valentino Rossi, he was also very happy with his position. He did mention that he'd found a big difference in performance between the tyres but was pleased to put in a good lap time and thinks that "second place is very important for the race". At this point, he's not thinking about the championship, he just desperately wants to win tomorrow because in the words of his Blues Brothers inspired helmet, for him it's "Sweet home Misano".
Third on tomorrow's grid will be Maverick Vinales, who has done a lot of work on the hard tyres, which are the expected race choice and the young Spaniard is confident for tomorrow. He knows he has good race pace and a front row start is a fantastic opportunity for the Suzuki rider.
Marc Marquez heads the second row in fourth, and although he got stuck in traffic which allowed his tyres to cool, which in turn stopped him from pushing 100% in a time attack, he was pleased with how close his pace was to the Yamahas, and he expects to be strong tomorrow.
For the race tomorrow, it's expected to be dry and tyre choice will once again be a key component in who takes the chequered flag first. The decision is probably going to be between the medium and hard tyres (both front and rear) and we've seen in the last three races what a difference that choice can make.
In Moto2 it will be Johann Zarco on pole, while in Moto3 Brad Binder will head the grid.