For round 14, the MotoGP paddock heads to Aragon in the north-east of Spain.
It's a beautiful part of the country with everything from glaciers and mountains to rivers and valleys. And just like the province, the Motorland Aragon circuit is incredibly diverse.
The track presents quite a big challenge in terms of setup for the riders and their teams. There are very fast sweeping corners, blind crests, tight hairpins, hard-braking zones, a climb uphill before a descent back down, a long straight and even a mini corkscrew.
Setup will be all about balance and compromise; for the first sector, weight on the front of the bike will be key because as the riders climb up through the circuit they'll need that extra weight to enable them to turn, while for the last section heavy braking comes into play so that extra front weight could cause issues with stability and actually getting the bike stopped. But grip at Aragon isn't always easy to find, so they'll have to balance the needs of the front to make sure the rear is getting enough weight to it as well.
It's a "complete" circuit and should benefit more technical riders, which Ramon Aurin thinks might benefit his rider Dani Pedrosa, who is also fresh from winning the last race in Misano.
Aragon always brings interesting racing and quite often, some incredible battles, as Pedrosa showed when he fought to the flag with Valentino Rossi last year. The main overtaking spots are all left-turns; with turn 1 and 12 both being quite sharp, while turns 4 and 5 is more of a sweep, with the end of the long back straight being the last big chance to get past the rider in front of you.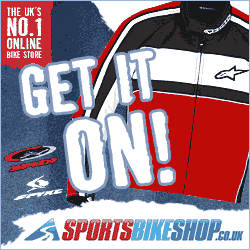 The track also brings the possibility of challenges for Michelin. They have never raced at the track as it was introduced after they left the championship and they only conducted one test last year. It's also important to remember that the tyres they tested in 2015 are incredibly different to the ones the riders are currently racing. While Aragon can still be quite warm at this time of year, it is prone to chilly mornings so tyres that can warm up quickly early in the day but still be able to tolerate higher afternoon temperatures will be key.
For Aragon Michelin have brought soft, medium and hard front slicks, with the hard front being asymmetric, with a harder left shoulder as the circuit has 3 more lefts than rights and has been rated as a medium for track abrasiveness. For the rear slicks, the riders will be able to choose from medium and hard, both of which will be asymmetric, again with a harder left side. In case the weather turns wets will be available in soft and medium compounds, with intermediates also an option.
Whatever the weather, Aragon is a tricky one to predict in a normal year and 2016 is anything but normal! There have been four first time MotoGP winners and eight different winners (all in the last eight races!), both of which are records.
Dani Pedrosa has had a big confidence boost after Misano, but in his own words "it's important that we keep our feet on the ground". He has won at Aragon before and had a great battle with Rossi in 2015. But he's also had some bad luck at the track; in 2013 there was that freak accident where Marc Marquez somehow detached Pedrosa's traction control sensor, and in 2014 Pedrosa crashed when riding on slicks in damp conditions.
But for his team-mate Marquez, fortunes are even more mixed. He is fast at Aragon, it's a track that he likes although not one of his favourites and he feels it suits his riding style. He qualified on pole in 2013, 2014 and 2015. In 2013 he went on to win, but in the last two years, he's crashed during the race, meaning he finished 14th in 2014 and had to retire last year. The championship leader hasn't actually won in Spain since Valencia 2014, and for the first time since he joined MotoGP he's not finished in the top two for the last four races. He'll be desperate to get back to winning ways, but at such a crucial time of the season don't expect him to be willing to throw away points when trying to do so.
The man on form for the last two races at Motorland is World Champion Jorge Lorenzo, something quite remarkable as the Spaniard says "this track never suits our bike perfectly". But despite returning to the podium recently he hasn't won since Mugello back in May, so he'll be hoping to get a good setup and tyre feel early on, to put him in the best possible position on Sunday.
Lorenzo's recent Aragon success hasn't been shared by Valentino Rossi, who has never won at the track and only has two podiums there. Finishing behind Pedrosa in Misano was a huge disappointment for the Italian which will leave him wanting to return the favour at the Spaniard's home race, but the stats aren't in Rossi's favour. Across all three classes, only four non-Spaniards have won at Aragon and in MotoGP Casey Stoner is the only non-Spanish rider to finish in the top two at the track.
But this is 2016 and anything can happen, and Rossi has won the other two Spanish races this season.
Aragon could also see the first World Champion of the year crowned, with Brad Binder getting his first shot at the Moto3 title. There's a lot of different ifs and buts for the scenarios but if he finishes first or second he will be the champion, if he's third and Enea Bastianini doesn't win it'll still be good enough for Binder, and then it gets a little bit more confusing as Jorge Navarro comes into the calculations. But if Binder does win he will be the first South African World Champion since Jon Ekerold in 1980 (350cc).
There's still a few rider changes due to injuries this weekend. Alex Lowes continues to stand in for Bradley Smith, while Nicky Hayden will stand in for Jack Miller. Both Andrea Iannone and Loris Baz will have medical checks on Thursday to see if they are fit.
Aragon promises close, hard racing, great overtaking and probably a lot of talk about both the tyres and the weather. The characteristics mean the riders will be on the limit at every single part of the track and for all 23 laps. With it being the last race before the flyaways start, there's some extra motivation (not that it's needed) to fight all the way to the chequered flag.